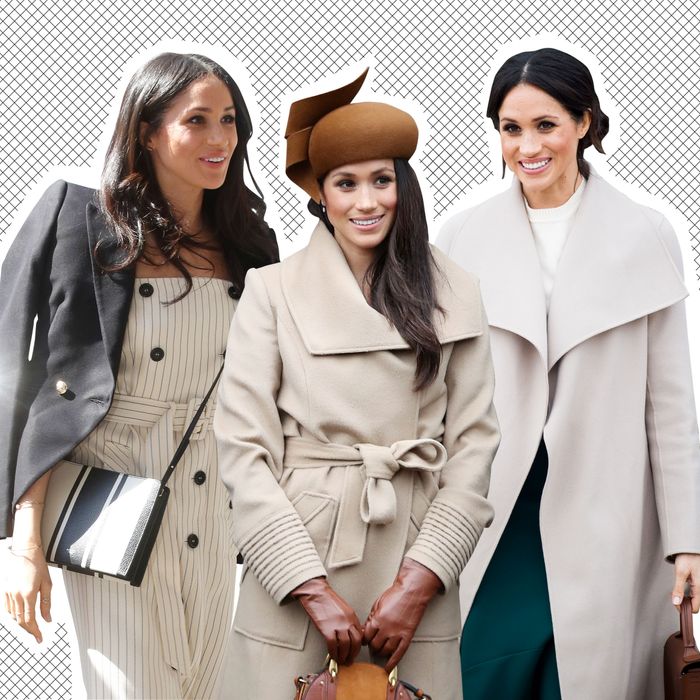 Meghan Markle in three power coats.
Photo: Getty Images
Today, Meghan Markle and Prince Harry wore beautiful clothes to a Commonwealth Reception. And whenever Meghan Markle wears beautiful clothes, two things are bound to happen. 1) Everyone will write about how flawless she/her lip gloss/her messy bun looks and 2) the clothes she wore sell out in a few hours. According to Women's Wear Daily's new report, Meghan Markle's outfits are worth $212.2 million to the brands she's wearing, when you add up media exposure, social-media impressions, and actual sales.
That staggering figure is courtesy of David Haigh, chief executive officer of Brand Finance. He said that no matter who ends up designing Markle's wedding dresses, it'll be like "winning the national lottery." The Meghan Markle effect is especially potent for lesser-known brands. When Markle wore a Mackage coat in Belfast, the brand received 1.6 billion social-media impressions in 24 hours and their site traffic quintupled.
The items also almost always sell out within a few hours. Markle's Christmas Day power coat by Sentaler was placed on back-order twice after selling out "instantly." One brand, P.A.R.O.S.H., told WWD that sales are stronger than ever after Markle wore one of their green dresses for her official engagement announcement.
Like her sister-in-law-to-be Kate Middleton, Markle has inspired hundreds of blogs and social-media accounts with her personal style. But it's beyond voyeurism — it's a bona-fide industry.