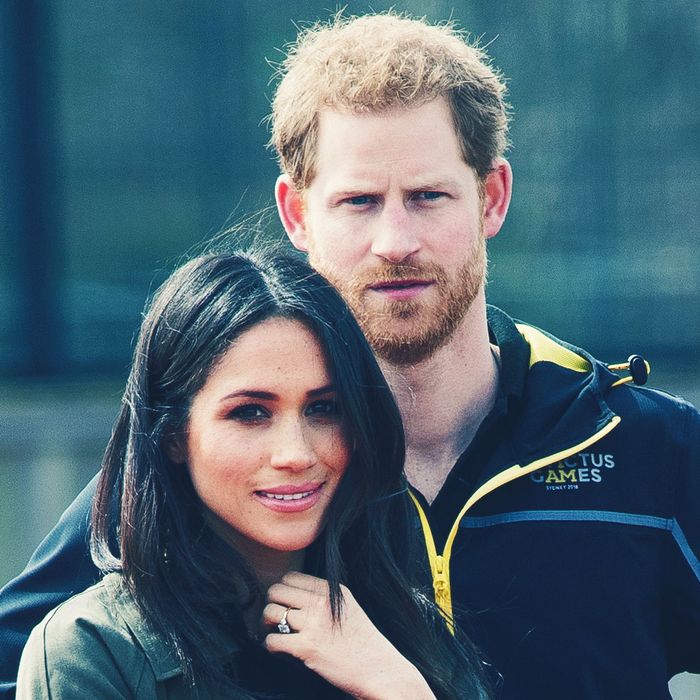 Meghan Markle and Prince Harry.
Photo: Samir Hussein/WireImage
The royal wedding between literal suit-wearer Meghan Markle and renowned ginger Prince Harry is a little over a month away (CAN YOU BELIEVE IT????). But as we frantically count down the minutes (or more accurately, seconds) until their upcoming nuptials, biographer Andrew Morton has graciously given the world a pre-wedding present of new information about Markle and Prince Harry's first date.
"Page Six" published an adapted excerpt his new book Meghan: A Hollywood Princess (which comes out on Tuesday), featuring almost all the info we've ever wanted about their first meeting. According to the excerpt, Markle had been traveling for her college best friend Lindsay Roth's bachelorette party to Greece in June 2016 shortly before her July meet-cute with the prince.
Morton writes that Markle had only recently broken up with her former Canadian chef and restauranteur boyfriend Cory Vitiello (whom she apparently lived with) at the time of that trip. Shortly afterward, in late June/early July 2016, she flew to London for a week of promoting Suits. While there, she also attended a Wimbledon match as a guest of Ralph Lauren and became quite close with the brand's PR executive Violet von Westenholz.
Of course, it's already known that von Westenholz is a longtime friend of Prince Harry and set the couple up on a blind date. But Morton's adapted excerpt has some new info. Markle apparently went to lunch with her friend Gina Nelthorpe-Cowne the day of the date and told her all about it. Nelthrope-Crowne told the Daily Mail recently (so we assume she is no longer a "friend"), "I jokingly asked if she knew what she was letting herself in for and she said: 'Well, it's going to be an experience and at least it will be a fun night.'"
According to Morton, the date went down in a private room at the London branch of the members-only club, Soho House. The meeting was set up by her friend (and Invictus Games plus-one) Markus Anderson, an ambassador for the brand. The first date, as we know, went very well and the pair decided to see each other the next evening as well … and then headed to Botswana for a safari a few weeks later.
"I'm sure that the Botswana trip is what clinched the deal," Nelthorpe-Cowne told Daily Mail. "When they were back, she showed me the most wonderful photographs of the two of them on her phone. They were so clearly already in love. She told me it was serious and they had started discussing the future. She said they'd said to each other: 'We're going to change the world.'"
Ahh, we can't wait for May 19!