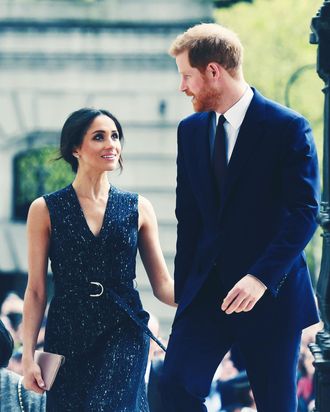 Meghan Markle and Prince Harry.
Photo: VICTORIA JONES/AFP/Getty Images
If you've been desperately trying to figure out what music Meghan Markle will be walking down the aisle to during her upcoming May 19 royal wedding to Prince Harry — the theme song of Suits? A different song used in an episode of Suits? A song about some suits? — well, then, you're in luck. On Tuesday, Kensington Palace released some new information about the upcoming nuptials, including the music selected for the St. George's wedding service portion of the ceremony.
So unfortunately, it looks like we won't be blessed with the sounds of anything relating to Markle's USA Network TV legal drama. But on the plus side, the soon-to-be-married couple selected an array of classical and British music for the ceremony, which means we also won't be subjected to their participating in an impromptu wedding flash mob to a Chris Brown (ugh) song either.
Kensington Palace notes on Twitter that the music will be under the direction of (go figure) St. George's Chapel's director of music, and will feature the choir of St. George's Chapel.
The ceremony will also feature music from 19-year-old cellist Sheku Kanneh-Mason, whom Prince Harry saw play at a charity event in London last June.
There will also be a choir composed of British artists: Karen Gibson and the Kingdom Choir.
There's no word yet about the music selection at the more exclusive private reception after the St. George's affair (which we have not been invited to, rude). But we can only assume there will be a healthy dose of traditional wedding reception tunes including the "Macarena" and the "Electric Slide."