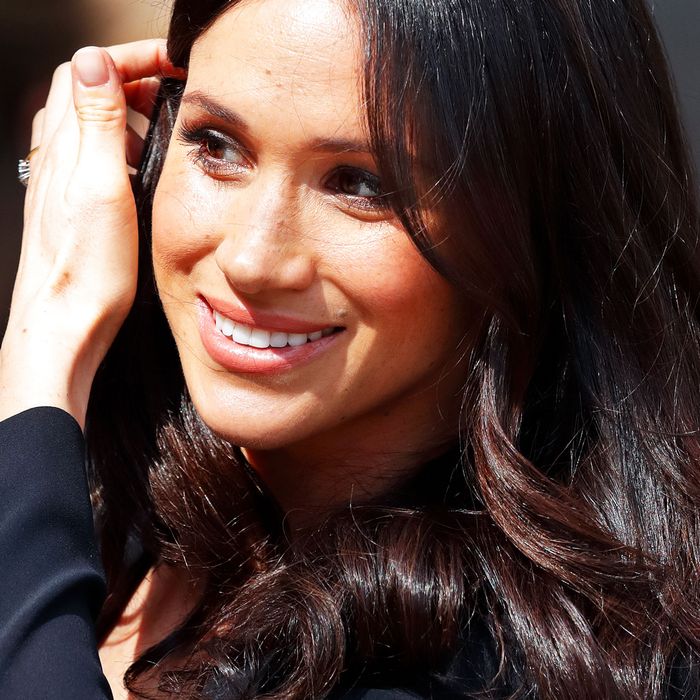 Meghan Markle.
Photo: Max Mumby/Indigo/Getty Images
Meghan Markle might be wearing something of Princess Diana's on her wedding day, and we're not talking about the massive rocks on her ring.
According to Katie Nicholl, a leading royal expert, Markle's "something borrowed" could come from Lady Di's jewelry box.
"Harry made sure Diana wasn't forgotten on the day of his engagement," Nicholl told Express. "Two of the diamonds in Meghan's ring are from Diana's personal collection. So I think there's every possibility that Meghan might wear a piece from Diana's jewelry collection on her wedding day."
And speculations are already starting to circulate about which piece the bride-to-be could choose. Nicholls threw out the Princess's Spencer Tiara as an option, saying, "This could be a way for Prince Harry to involve his mother in his big day, as Prince William did when he gave his future wife Kate Middleton his mother's engagement ring."
But other experts don't think Markle would borrow that iconic piece.
"I think it's unlikely because Meghan is marrying into the Windsor family, not the Spencer family, so if she borrows a tiara, I think it will reflect her new royal status," jewelry writer Ella Kay told Town & Country.
So Markle could pick from another one of Di's tiaras, or even something totally different, such as the Princess's the South-Sea pearl earrings or her diamond and sapphire suite from the Sultan of Oman (which would also satisfy Markle's need for "Something Blue" — a very convenient option).
One thing's for sure: The big day will be full of major fashion revelations.