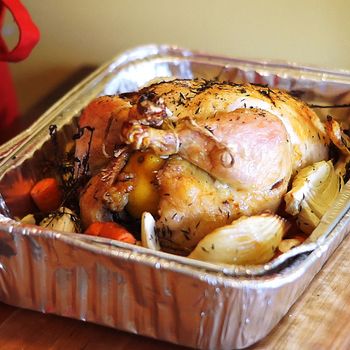 Over Easy is a weekly food column by a 20-something woman who can barely cook an egg and just wants to learn how to throw together an elegant three-course meal for her friends.
One "cozy" night in early November, Prince Harry (currently fifth in line to the British throne; formerly a Vegas party boy; onetime Nazi costume-wearer) proposed to his girlfriend Meghan Markle (currently a USA Network star, formerly a lifestyle blogger; onetime Deal or No Deal briefcase model). The couple described the evening during a BBC interview a few weeks later.
It was "just a standard, typical night for us," Harry said, as the two sat holding hands, looking like a live pair of heart-eye emojis.
"Just a cozy night," Meghan interjected, "It was — what were we doing? Roasting chicken and —"
"Trying to roast a chicken," Harry clarified.
"Trying to roast a chicken," Meghan concurred. "And it was just — just an amazing surprise. It was so sweet, and natural, and very romantic. He got down on one knee."
Markle isn't the first to experience the amorous powers of roast chicken. In 2004, Glamour popularized the concept of Engagement Chicken, a roast chicken so exquisitely delicious, it will make your partner propose to you after you make it.
Is that what Meghan had in mind the night Harry proposed? I'm not sure. But there's a good chance she used the celebrated recipe of another royal: Ina of the House Garten, First of Her Name (Maybe), the Barefoot Contessa, Queen of Entertaining and the Food Network, Khaleesi of East Hampton, Breaker of Diets, and Lover of Jeffrey. In an interview with Good Housekeeping in 2016, Meghan said, "There is nothing as delicious (or as impressive) as a perfectly roasted chicken. If you have an Ina Garten-level roasted-chicken recipe, it's a game changer. I bring that to parties and make a lot of friends."
A dish beloved by the likes of domestic titans like Meghan and Ina (and the Cut's own Stella Bugbee) that would make me "a lot of friends" and get people to fall so helplessly, disastrously in love with me that they have to propose? I had to try it.
I found Ina Garten's recipe for "Perfect Roast Chicken" (Perfect, I thought) and went shopping. The first thing that struck me: As elegant as roast chicken is, it's a very affordable dish — the ingredients came out to just a little over $25. And because I got a five pound chicken, fresh herbs, and organic veggies (I was trying to cook like a royal, after all), my purchases were on the expensive side. If you get a smaller chicken, skip the fresh herbs, and use less expensive vegetables (like red bliss potatoes), the cost is significantly cheaper.
Well, okay. The price was actually the second thing that struck me. The first thing was that I have no freakin' clue what fennel looks like! After wandering up and down the vegetable aisle at Key Foods, looking for a sign that said "fennel," I resorted to Google Images, and was shown a bunch of pictures of this weird, alien-ass root vegetable that looks like the result of a green onion doing it with a chia pet. I found one and, after texting a more culinarily gifted friend for confirmation that it was, in fact, fennel, made my way to the checkout counter where the cashier took one look at the plant, raised her eyebrows, and asked, "What the hell is this?"
"F-fennel?" I answered.
"I have never seen this before in my goddamn life."
She made me feel so much better that even though I hadn't even made the chicken yet, I almost proposed to her right then and there.
The next day, I went to cook the chicken at my friend and co-worker Amanda's apartment, because she is a much better cook than I am, and Ina listed the difficulty level of her roast chicken as "intermediate," and also because I didn't want to screw up a dish with such high marital stakes. First, we chopped up the carrots, onion, and fennel. These go under the chicken in the roasting pan, and soak up all its yummy juices. Next, we rinsed the chicken off in the sink, and Amanda generously offered to pull out the small remaining tail feathers, because they grossed me out. After patting it dry with paper towels, we salted and peppered the inside, stuffed it with two halves of a lemon, a head of garlic, and a bunch of thyme, and then tied the legs together with cooking twine.
(I bought cooking twine specifically for this recipe, but multiple roast chicken connoisseurs have told me that it's largely an aesthetic choice, and it's not a big deal if you don't use it.)
As we buttered the outside of the bird, and then sprinkled it again with salt and pepper, I wondered if Harry and Meghan had done this part together, Harry playfully smearing a bit of butter on Meghan's face, and Meghan saying "Harryy!" and then throwing a sprig of thyme at him. Sure, they probably didn't really do that because it's super unhealthy to touch someone's face after you've touched raw chicken, but a girl can dream.
The chicken and vegetables all went into a roasting pan, and then into the oven, which had been pre-heated to an erotic 425 degrees, where it was left to cook for an hour and a half, or until the juices ran clear. While we waited, Amanda and I sipped a Pinot Noir that the woman at the wine store by my apartment had said paired well with roast chicken. It was 11:30 in the morning, but we figured, with the time difference, it was about cocktail hour in England, where Harry and Meghan live.
About 45 minutes after we had put the chicken in the oven, Amanda went to check on its progress, and realized we had forgotten to drizzle olive oil over the vegetables before we cooked them. This wasn't a huge problem, but when we took the chicken out 20 minutes later, the vegetables were much more firm than we had intended. The chicken itself, though, was flawless. The skin was brown and crispy, and the meat was moist and flavorful, with hints of the garlic, lemon, and thyme we'd stuffed it with. At first we cut off slices that we ate off of plates, with forks, but eventually we dropped all pretenses of decorum, and began tearing at the carcass with our hands. At Amanda's urging, I tasted roasted fennel for the first time, and its subtle, sweet flavor bowled me over. "I love this!" I roared (I hadn't eaten much before the wine). "Where has this been my whole life?!"
The concept of Engagement Chicken is a bizarre, regressive idea that should probably be retired. But it's true that roast chicken is an amazing date-night dish, whether that date is with your partner, your friend, or just yourself. It's affordable, easy, and fun to prepare. While it cooks you can have a drink, or play a game, or watch TV, and when it's done, everyone's impressed. That's the magic of roast chicken — it's a comforting, familiar dish, certainly, but there's also something extravagant about serving a whole bird. Maybe that's why people keep proposing to whoever makes it for them. Personally, I can't wait to spend the rest of my roast-chicken-filled life with myself.
My report card
Preparation: B
Taste: A
Potential to make a royal fall in love with me: A+++!
My Overall Performance: A