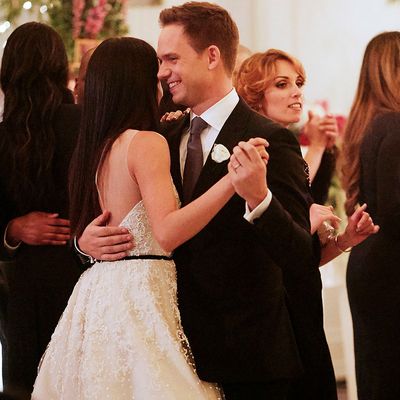 Meghan Markle's
Suits
character's wedding.
Photo: Ian Watson/USA Network
On Saturday, May 19, Meghan Markle will be marrying Prince Harry in a very fancy British royal wedding. But before that, Meghan's Suits character Rachel Zane is also getting married — and we finally have the first pics from her made-for-TV nuptials.
In first-look pictures that conveniently hide Meghan/Rachel's face (presumably a move by USA Network to ensure that we will all be tuning into the actual TV wedding), the soon-to-be royal is seen walking down the aisle, saying her vows (we assume), and then dancing at the reception with her TV husband, Mike Ross (played by Pretty Little Liars star Troian Bellisario's husband, Patrick J. Adams).
Here is the back of Meghan/Rachel's lovely wedding dress, as she walks toward Mike. Her TV dad is walking her down the aisle — you might remember him as the actor Wendell Pierce, who revealed that the cast of Suits used a secret code to talk about Prince Harry on set: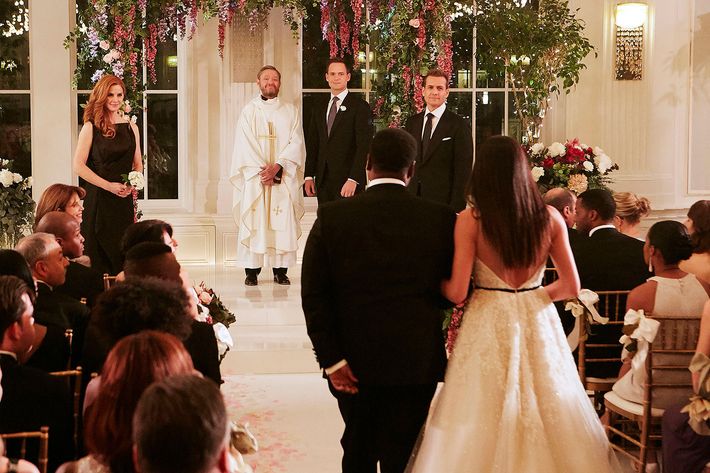 And here she is again, probably saying her vows since she's standing in front of Mike at the altar and we saw pics of them dancing at the reception, so we assume the whole thing goes off without a hitch. Meghan/Rachel's hair is so beautiful and straight and long in these pics, and we love it, even though we do miss Meghan's (not Rachel's) messy bun: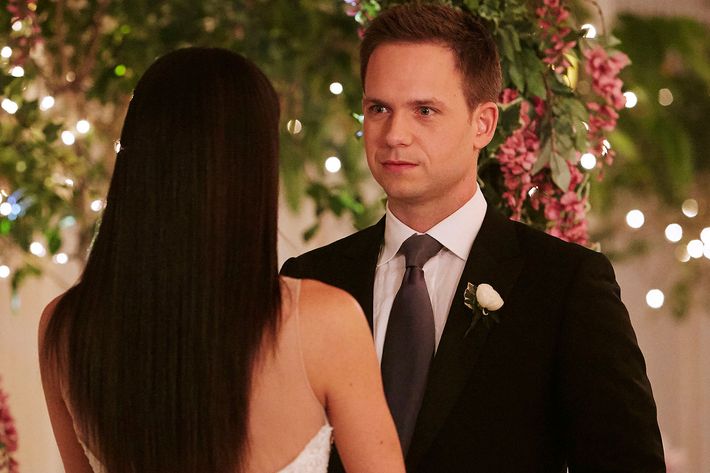 The TV wedding will be airing during Suits' two-part season finale starting on April 25. It marks Meghan's last appearance on the show, as she's left acting to pursue being a full-time royal. It's so kind and thoughtful of USA Network to give us this TV wedding less than a month (eeek!) before the royal wedding.