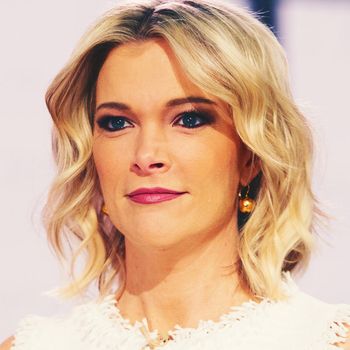 Megyn Kelly.
Photo: NBC/NBCU Photo Bank via Getty Images
After two women accused veteran NBC host Tom Brokaw of sexual misconduct in a troubling Washington Post report last week, more than 60 of his female colleagues signed a letter in support of "the man of tremendous decency and integrity." One woman's name that was noticeably absent from the signees was NBC host Megyn Kelly, who finally commented on the "dicey" letter during her show today.
While the Megyn Kelly Today host is clearly attempting to maintain some small semblance of objectivity, her statements about the letter — signed by respected women in media, including Rachel Maddow and Andrea Mitchell — come off as slightly critical.
"It's basically a character reference and they're saying, for what it's worth, 'My experience with him has always been honorable and he's always treated me well,'" she said.
Brokaw's defenders released the letter, claiming that the veteran host has treated all of them all with "fairness and respect," just a day after former NBC News anchor Linda Vester and another woman accused him of touching them without their consent. While the letter did not explicitly dispute the two women's allegations, it certainly cast doubt on them, which Kelly seemingly found to be ill-advised.
"When you love the person being under attack, you want to say, 'This has been my experience,'" Kelly said, before referencing her own sexual-harassment allegations against ousted Fox News chairman Roger Ailes. "I will say, the same thing did happen at Fox and the truth is, you don't know what you don't know."
Though Kelly clarifies that she's not trying to "impugn Tom," who has also been "so good" to her, it doesn't sound like she'll be tweeting "add me to the list" anytime soon.