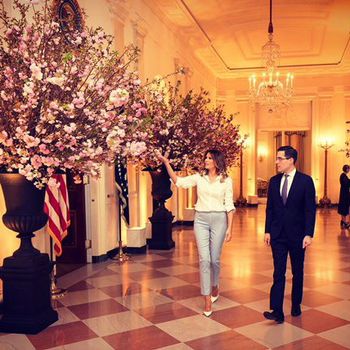 Pointing at flowers.
Photo: @FLOTUS/Twitter
French President and beauty influencer Emmanuel Macron is coming to Washington, D.C., this week for an official state visit, and Melania Trump has been a blur of activity.
In a series of tweets posted on Monday, the First Lady shared how busy she's been getting ready for Tuesday night's official state dinner at the White House, and let me tell you, it looks exhausting. She's been pointing at absolutely everything — flowers, chairs, fabric swatches, documents, desserts, a whiteboard on the Truman balcony, table settings, blueprints, seating arrangements, invitations, more fabric swatches … you name it, she's pointed at it.
According to the Hill, the menu the First Lady pointed at will include a rack of spring lamb with Carolina gold rice jambalaya, and wines made from French grapes harvested in Oregon. Ooh la la!
This is not the first time the Trumps and the Macrons have met, of course. The president and First Lady visited France last July, where Trump shook Macron's hand for approximately 45 minutes, and told his wife, Brigitte, that she's in "such good shape." Who knows what weird comments he has in store for this trip.