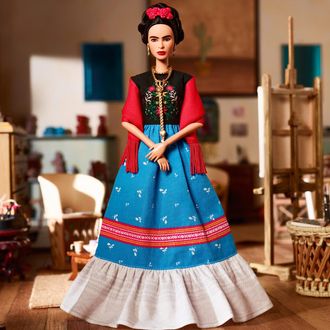 The Frida Kahlo doll.
Photo: Mattel
Mattel is temporarily blocked from selling its controversial Frida Kahlo Barbie doll in Mexico.
The Guardian reports that Kahlo's relatives won a temporary injunction on Thursday, after arguing that the company did not have the rights to use the late artist's image.
The Frida Kahlo doll was included in an "Inspiring Women" series that was released to coincide with International Women's Day last month. It immediately drew criticism, with Kahlo's great-niece Mara de Anda Romeo arguing that Mattel did not have the authorization to make the doll. (Mattel argued that they obtained the appropriate rights with the Frida Kahlo foundation.)
There was also opposition to both the physical appearance of the doll — which is light-eyed and doesn't include Kahlo's signature unibrow — and its symbolism. Mattel is a massive corporation that promotes conventional, unrealistic female beauty standards, while Kahlo was a lifelong feminist and communist.
Salma Hayek, who portrayed Kahlo in 2002's Frida, even weighed in. "#fridakahlo never tried to be or look like anyone else. She celebrated her uniqueness. How could they turn her into a Barbie," she wrote on Instagram, punctuated with two thumbs-down emojis.