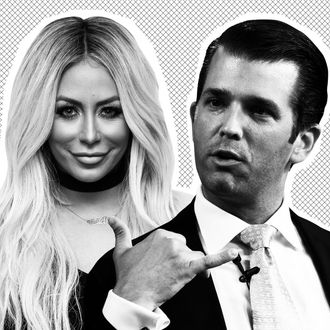 Aubrey O'Day, Donald Trump Jr.
Photo: Getty Images
As Michael Cohen faces the heat of an FBI investigation, the Wall Street Journal reports that he aggressively blocked one piece of gossip from hitting newsstands in 2013: the alleged affair between Donald Trump Jr. and Aubrey O'Day.
Cohen, President Trump's personal attorney, has been accused of setting up a shell company to pay off women who've had alleged sexual encounters with his clients (most notably, Stormy Daniels). In this case, he's said to have stopped Us Weekly from printing a story about Trump's eldest son and the Danity Kane member/Celebrity Apprentice contestant.
Per the WSJ, here's what happened when a staffer called the Trump Organization for comment:
They received a call back from Mr. Cohen, who threatened legal action and became so irate that they muted the call while he spoke, one of these people said.




"We were all on speakerphone and huddled around the phone," this person said. "He was just one of these New York characters where he was just like swearing at us and totally over-the-top threatening."
The magazine reportedly decided that it wasn't worth pursuing it further. Of course, the story emerged again five years later — when it was arguably far more salacious. And this time around, it involved us having to consider Donald Trump Jr.'s feet pics.