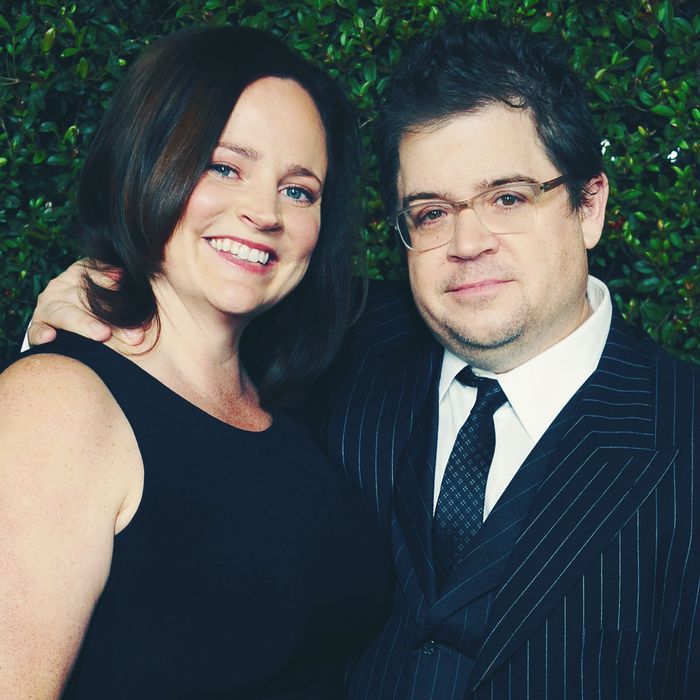 Michelle McNamara and Patton Oswalt.
Photo: Gregg DeGuire/FilmMagic
"One day soon, you'll hear a car pull up to your curb, an engine cut out. You'll hear footsteps coming up your front walk," Michelle McNamara wrote in a letter to the Golden State Killer in the final pages of her posthumously published best-selling book, I'll Be Gone in the Dark, about her obsessive pursuit of the notorious, elusive serial rapist and killer. "This is how it ends for you … Open the door. Show us your face."
And that is indeed how the beginning of the end is playing out for the Golden State Killer. My friend Michelle McNamara — whom I first met in high school 32 years ago, when we were staff writers on our suburban-Chicago high-school newspaper — died in her sleep on April 21, 2016. She'd never get to see his face or know his name. Just four days after the second anniversary of her death (and a week and a half after what would have been her 48th birthday) her long sought-after wish came true: the arrest, then the revelation of a name, and, finally, a face. The timing struck many people as uncanny: Michelle's widower Patton Oswalt, together with her researcher Paul Haynes and investigative journalist Billy Jensen (whom Oswalt hired to finish McNamara's book), were at an event promoting I'll Be Gone in the Dark. It took place in Naperville, a suburb about 45 minutes from our hometown, Oak Park, and the audience included Michelle's entire family, her close friends, and an HBO film crew shooting footage for the docuseries on her investigation.
Oswalt had told the crowd that the killer's time was running out — but at the time, he didn't know how quickly. At four the following morning, Oswalt was awakened by a call with the news that the Sacramento Sheriff's Office had in custody a man they suspected was the East Area Rapist, a.k.a. the Golden State Killer, on a warrant for two murders. After 40 years of confounding investigators, the law had finally caught up to the man who'd committed at least 12 murders and 45 rapes in northern California (where he was known as the East Area Rapist) and southern California (where he was referred to as the Original Night Stalker). "I had no idea there was going to be this break," Oswalt told me. "It wasn't even in my
head. And all that synchronicity … no, I'm not going to say there was, because
Michelle" — who had a comically fierce distaste for the notion of serendipity and coincidence — "would just laugh at that."
Throughout yesterday, the charges piled up (including four counts of murder in Orange County), thanks to recently obtained DNA evidence. The killer's identity and photo were revealed to the public: Joseph James DeAngelo Jr., a divorced father of three, now 72 and bald, his face blotchy and bloated, standing five foot eleven and 205 pounds. He was a 30-year resident of Citrus Heights, a city outside Sacramento; according to neighbors, he'd been living there with a daughter and grandchild. It turned out the Golden State Killer was a Navy veteran who had served in Vietnam, and, from 1973 to 1979, had worked as a cop for two different precincts, in Exeter and Auburn. He was fired in 1979 by the Auburn Police Department after he was accused of shoplifting a can of dog repellent and a hammer at a local drugstore.
Which is to say, he not only matched the FBI profile — white man with an athletic build, approximately five foot ten, anywhere between 60 and 75 years old, with "interest in the military, or had some military training, leaving him familiar and proficient with firearms" — but also the emerging portrait that was coming into focus for Michelle, who'd suspected he had connections to the military and to law enforcement.
Haynes couldn't tell me whether his name or likeness had come up in their research; in fact, authorities said DeAngelo hadn't been on their radar until last week. It turns out the lucky break came from discarded DNA found by surveilling DeAngelo's Citrus Heights home — though the Sacramento County Sheriff's Office hasn't said what drew them there. "They haven't been very clear as to exactly what pointed them toward this person and why they did DNA testing on him," said Oswalt. "For all we know, what if one of his family members read Michelle's book and ratted him out? Or someone in his community? She spent years keeping this case alive and out there, so the whole story hasn't been told yet."
When the story broke yesterday morning, though, all I could think was, if only Michelle could be here right now, to see her years of work come to fruition. There's been a lot to celebrate since the February 26 publication of I'll Be Gone in the Dark — the critical praise, her debut in the No. 1 slot on the New York Times best-seller list, the HBO production of a five-part docuseries based on her investigation. But the arrest of DeAngelo would have been most meaningful of all. All day, I received a flurry of texts and emails from our friends, from my colleagues, and even from friends who are fans of her work, to share in the confluence of feelings that the news conjured: Some messages were as simple as exclamation points, OMFGs, and emoji hearts, more than a few of them broken. I felt a strange and devastating mixture of pride, sorrow, elation, and a level of heartache I'd not quite experienced before. As one of her closest friends, Adam Drucker, explains it, "Every bit of joy about this comes with instant sadness. I'm trying to focus on the joy." The thrill Michelle's researcher Haynes has been experiencing in the wake of the case's resolution is weighted with grief. "I thought the arc of grieving had reached its terminus," he said. "But today, I'm hit with an unexpectedly profound degree of sorrow. I so wish Michelle were here to enjoy this moment."
"The magnitude of this case demanded that it be solved," said Sacramento County District Attorney Anne Marie Schubert at a news conference on Wednesday afternoon. "We found the needle in the haystack, and it was right here in Sacramento." Sacramento County Sheriff Scott Jones dismissed Michelle and Haynes's contributions, even as they referred to the predator as the "Golden State Killer" — the name Michelle had bestowed upon DeAngelo. "There was no information extracted from that book that directly led to the apprehension," said Jones — neither Schubert nor Jones offered so much as a thank-you.
"It's so ironic to see a press conference where they say the book gave us no help but they're using the term 'Golden State Killer,' which she coined, and which gave them the umbrella to put these cases together," said Oswalt.
Haynes said he felt "pretty confident that the vigor with which this has been recently investigated, as well as the explosion of new interest and attention, had something to do with our efforts."
But as Oswalt has been telling people, "Michelle always said, 'I don't give a fuck about getting credit for catching this guy, I just want him captured. I want one of these older guys to put the cuffs on him and slam the door behind him.'" And those of us familiar with her work are well aware of how instrumental her exhaustive research and footwork was in this investigation.
In January, when I interviewed criminalist Paul Holes for my profile of Michelle—he has since retired from the Contra Costa County Sheriff's Office, after devoting 20 years to pursuing the Golden State Killer — he told me he regarded Michelle as his "investigative partner. She just wasn't riding shotgun with me." He also offered some insight into the politics of the force: "Law enforcement is funny, because even though, particularly in this case, where the model of an interagency cooperative, there's still territorial boundaries. Michelle had the freedom to call anyone she wanted whether it be victims or witnesses or original investigators across various jurisdictions, so she talked to people that I hadn't and find out details that weren't written in the case files and she would pass those on to me."
Oswalt, Haynes, and Billy Jensen will speak with Michelle's publisher next week about the future editions of I'll Be Gone in the Dark, as the case continues to unfold. In the meantime, I take heart, as all of us who love her do, in knowing that she got what she wanted most, and so close to her birthday, too: the capture and incarceration of one of this country's most vicious and prolific serial predators, and more importantly, the closure and peace of mind for the survivors and their families who had been waiting years for this moment.