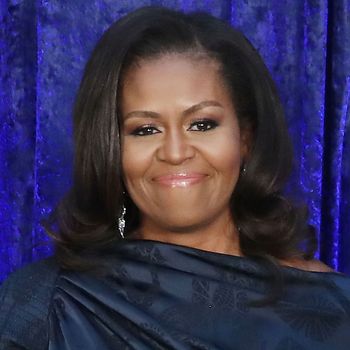 Michelle Obama.
Photo: Mark Wilson/Getty Images
Former First Lady Michelle Obama will probably never let her truest feelings about Donald Trump fly free, but she delivered a precise jab at the president on Thursday while speaking at the Simmons Leadership Conference in Boston.
In conversation with Simmons president Helen Drinan, Obama reflected on her husband's presidential tenure, demurring, "I think what we see is what happens when we take things for granted. For the eight years Barack was president, it was like having the 'good parent' at home. The responsible parent, the one who told you to eat your carrots and go to bed on time."
As for Trump? "And now we have the other parent. We thought it'd feel fun, maybe it feels fun for now because we can eat candy all day and stay up late, and not follow the rules." It's a tame statement on its own, but coming from the woman who founded Let's Move!, ouch.
She continued politely dissecting Trump's time in office, suggesting, "There are times in history when we feel like you're going backward, but that's part of the growth."
But for those wondering if Obama herself will be a part of the next round of growth, she put 2020 presidential run rumors to rest: "I don't want to be president, I don't think I should be president. I think I can do a lot of things, but that's not one of them. And we have to find women who understand their gifts and know where to put them to use. I know what I'm good at."