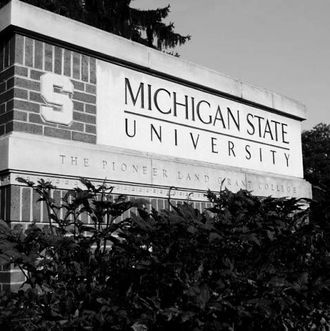 A woman is suing Michigan State University, claiming that the school discouraged her from reporting an alleged rape by three of their basketball players in 2015.
The Detroit Free Press reports that the federal lawsuit states that in April 2015, the student — a sports journalism major — was invited to a party at one of the player's apartments with the promise of meeting other players. She alleges that there was no party and that, instead, she was raped by the three players. She also believes that she was drugged.
The lawsuit also claims that the victim went to see an on-campus counselor, who discouraged her from taking the matter to the police because it involved prominent student athletes:
According to the lawsuit, the MSU Counseling Center staffers then "made it clear to Plaintiff that if she chose to notify the police, she faced an uphill battle that would create anxiety and unwanted media attention and publicity as had happened with many other female students who were sexually assaulted by well-known athletes." The staff members, per the court filing, then advised the woman they had seen a lot of these cases with "guys with big names" and the best thing to do is to "just get yourself better" implying to the woman it would not be in her best interest to report the incident to law enforcement.
She was also allegedly not told about basic physical services available to her following a rape report:
The woman's suit claims she was not advised to have a physical exam, seek medical treatment or have STD or pregnancy tests. It also alleges she was not notified of her federal Title IX rights, protections, and accommodations.
This is the latest scandal for a university dealing with multiple sexual-assault scandals involving student athletes, as well as the infamous Larry Nassar case.