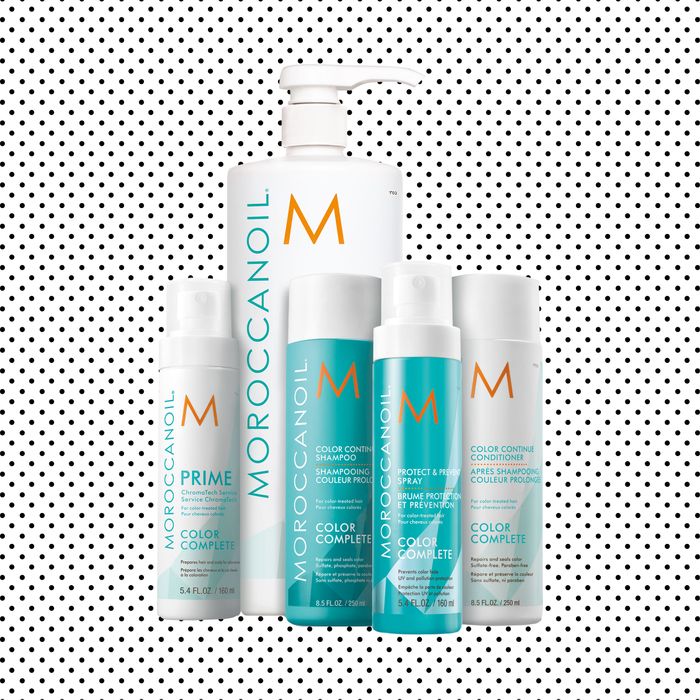 Photo: Courtesy of Moroccanoil
If you're already a fan of Moroccanoil's argan-oil treatment, but want to protect your colored strands before you apply it, you might want to consider the brand's new Color Complete hair-care regimen, which helps with color retention and protects hair from environmental damage. Keep in mind, these products won't help you if your hair color has already taken a turn for the worse, but if you just dyed it and want to make sure it stays the color you love, these products could help.
The new system is designed to start at the salon, before you even dye your hair. A stylist will coat your hair with the Moroccanoil ChromaTech Prime, before the hair dye, evening out the hair's porosity so that color penetrates the hair equally. It also helps protect your scalp, so you're not left begging your stylist to wash the dye out immediately after it's applied. The ChromaTech Post treatment is used afterward to infuse the hair with argan oil, which seals the shaft. Meanwhile, Colorlink technology rebuilds keratin structures, so your hair color won't fade after a few washes. Unfortunately for those of us who don't always head into the salon for a touch-up, these two products are only available in salons.
The rest of the products are available for use at home, where you can continue the regimen with the Color Continue Shampoo and Conditioner and the Protect and Prevent Spray. The shampoo was formulated without sulfates to gently cleanse hair and keep pH levels balanced, which also helps keep color intact. The conditioner, which uses the same Colorlink technology, is made with vegetable compounds to provide "slip," so your hair won't snap and break when detangling. Finally, the Protect and Prevent Spray shields hair from damaging UV rays, pollution, and oxidation.
Moroccanoil also announced that its first celebrity colorist will be Lorri Goddard, who is known for seamlessly threading color throughout the hair of clients like Reese Witherspoon, Rooney Mara, and Charlize Theron. Moroccanoil also introduced the Color Collective — five influencers with different hair textures and colors who will promote the new line on social media. They include Blair Eadie, Zanita Whittington, Jessica Wang, and Lisette Bagley, who will discuss the emotional connection women have with their hair.
The Color Complete Collection is available for preorder now from Moroccanoil.
Photo: Courtesy of Moroccanoil/Joshua Scott Photo
Photo: Courtesy of Moroccanoil/Joshua Scott Photo
If you buy something through our links, New York may earn an affiliate commission.