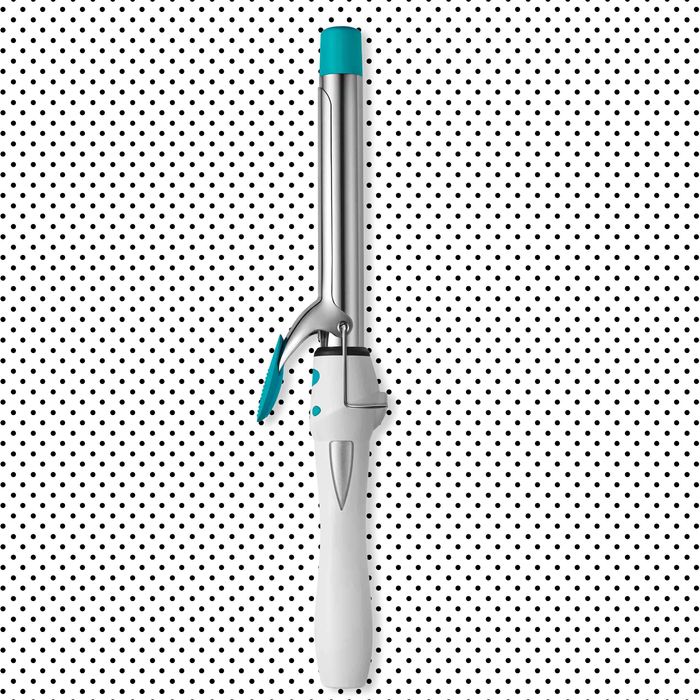 There's a new curling iron on the market and it should make your quest for the beachy waves much easier and more bearable. It's the latest launch from Moroccanoil, the brand that makes the conditioning and softening hair elixir that comes in the amber and turquoise glass bottles found in salons, Sephora, and your friend with the great hair's bathroom. The Professional Series Titanium Curling Iron sticks with the brand's turquoise look and is designed to create smooth, shiny curls that make it seem like the barrel must be infused with the brand's argan oil.
Sadly, it's not actually infused with the oil (thankfully, there are other products for that), but the iron has all the bells and whistles you'd want. It has a titanium barrel for even heat distribution, it gets up to 450 degrees for hair that seems to never curl, and it automatically turns off so you don't pull a Rachel Green from Friends and set fire to your apartment.
This barrel is also engineered to not catch hair in mysterious corners like some curling irons tend to do, and it's longer than most so those with long, thick hair can take a break from dividing their hair into dozens of smaller sections. For those with naturally loose curls, it's an easy way to gently touch up frizzy spirals without too much heat damage. Once hair is unwound from the barrel, all it takes is a little scrunching to make hair bouncy and look effortless, almost like you didn't just sit in front of the mirror longer than you care to admit.
If you buy something through our links, New York may earn an affiliate commission.