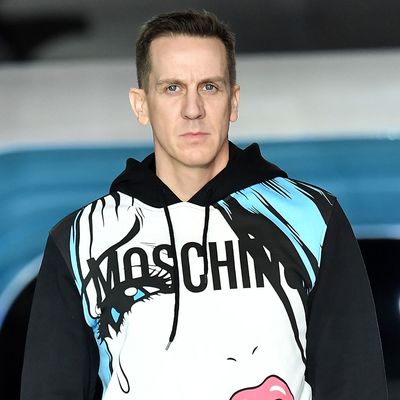 Jeremy Scott.
Photo: Jacopo Raule/Getty Images
On Sunday night at Jeremy Scott's annual Coachella party, the Moschino designer enlisted the help of supermodel Gigi Hadid to announce his latest collaboration with H&M via Instagram.
"This collaboration makes me feel like I'm able to give something again," Scott told Vogue, explaining that when his partnership with Adidas ended last year, he also lost the ability to sell affordable clothes. With Moschino x H&M prices ranging from $25 to $300, Scott said his young fans will now be able to have a full "lewk."
The Moschino x H&M collection will include around 45 womenswear pieces, plus 30 menswear pieces and accessories for both.
"We're doing the tiniest biker bag ever," said Scott. "It could be a necklace. It could just hold a lighter, or nothing."
Scott described the rest of the collection as being "sportswear-with-evening kind of feeling," like a hockey jersey with a train, for example. Hadid herself wore a dress with an archival Franco Moschino print on it, which will be for sale as well.
H&M creative adviser Ann-Sofie Johansson told Vogue that the collection encapsulated the "fun of fashion," promising that it will put a smile on your face.
The Moschino x H&M collection will be available online and in select H&M stores worldwide on November 8.