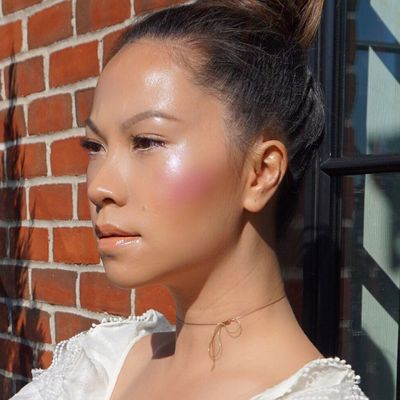 Have you ever been at dim sum and admired the sheen of a shrimp dumpling and thought, "Why are you so glowy?" Or marveled at the moist skin of a shu mai and thought, "How do I get that glow?" Wonder no more. In the past month, no less than seven people messaged me about about makeup artist Nam Vo, Instagram's highlighting queen, and her "dewy dumpling" look (Chrissy Teigen is a dumpling, too).
Vo's highlighter posts feature so much glow they're practically blinding. Videos in which she drags a brush filled with powder highlighter across the cheek are so satisfying in their payoff that they practically qualify as beauty ASMR. On the day Vo came to the Cut offices to demonstrate the technique, her highlighter caused all the heads in our office to swivel and she joked that her "shine was so bright you could see your future in it." Vo talked to the Cut about how she started her career, how her #dewydumpling look really is about skin care, and her tips for creating a highlighter so obliterating that you might need make an appointment with an ophthalmologist.
How did you start you career?
Apart from working in a donut store for four days, I've been doing makeup non-stop. I grew up in the Bay Area of California with first-generation parents who were very conservative. I didn't grow up around glamorous or fashionable women, I just gravitated toward it. I worked at the mall, for NARS Cosmetics and Shiseido. In 2008, I decided to be wild and came to NYC with $35 in my pocket like Madonna.
I started as a makeup artist at a strip club — I was working at Scores and Penthouse. That's where I learned my stage makeup and it was my first encounter working with "celebrities" — which they are in their own right. I came in at 5 p.m. and left at 4 a.m. Then I started freelancing with magazines.
Five years ago, everyone had an agent. I would roll my makeup kit to the office and then roll home. Three to four years ago, everyone was doing heavy Instagram makeup. Trends come and go. Healthy, beautiful skin is always in, I'm glad I stuck with it. Now I create content. I didn't even really learn how to use Instagram till like 8 months ago.
How did the dewy dumpling glow come to be?
I've been taking care of my skin since I was 8. I started applying eye cream then. I'm all about the glow and the skin. My mom always warned me about the sun. "You want these sun spots? Stay out of the sun," she would say. Even as a child, I had to walk home from the bus stop with a umbrella.
And yes, I've always been a highlighting whore. Even if the look is natural, I want my makeup to look 3-D. Even if you're doing natural makeup with eyebrows and no foundation, I want the skin to be luminous. As far as how my look came to be called dewy dumpling, dumpling has always been my term of endearment, the same way people use sweetheart or cupcake. I call everyone that. It makes sense, a dumpling is moist and glowy. The glazed donut is over, it's all about the dewy dumpling now!
So you've been doing skin care for decades. What do you do?
When I say I do everything, I literally do. People always say, "Oh, you must drink gallons of water!" The truth is I never do. I just don't like to. I don't drink a lot of liquid. My mom always tries to make me drink water. Who knows maybe on the inside, I'm dry and not dewy.
But my skin doesn't ever have time to get dull because every five minutes I'm doing something to change it up. I steam, I LED mask, I massage, I jade roll my face, I do Clear and Brilliant laser. I also do Higher Dose because I am all about steaming and sweating. I have the at-home wrap. I do it all, that's just because I am extra. I'm constantly exfoliating like there's no tomorrow.
There are a few products I like right now too. I like Summer Fridays Jet Lag mask. I use the Ole Henrikson Instant Transformation Lemon Facial Peel twice a week. I also use Herbivore's Brightening Mask. The Natura Bisse Cleansing Mask, I've been using for ten years.
I'm obsessed with Cle de Peau Beaute's Synactif face cleanser. It's like $100 for the bar of soap. I swear it's like a face lift. I keep it in the little container. I use a face oil from Tulura during the day, and at night, I'll use Biossance Squalane and Vitamin C Face Oil. It looks like your skin just took a drink of water (even though I don't drink any).
Everyone uses highlighter. But yours stood out. Do you use more of it? How do you get it to look so eye-catching and extra?
It really does starts with skin care. The better your skin is, the better the makeup is going to lay. I'm even working with a chef to create a dumpling that's also good for your skin. I'll have a dinner party and all the foods will have collagen. Women can be their best dumpling self.
If you're one of my friends, I'm honest with you. I'll tell you that the reason you look older than you are is because you've used primer, foundation, and powdered your whole face. I only like powder on the nose and side of mouth. I'll leave cheeks shiny. You don't have to look like an oil well to look glowy. I also use a non-shimmery eyeshadow and a dewy mist for glow.
How do you apply it? Do you just apply a lot of it?
My highlighter is a little extreme, perhaps. Some people want to be super subtle and I want it to be blinding. I layer it. The most popular way to apply it is in a "C shape" toward your temples and above the cheekbones. I use different textures too, since highlighters now come in drops, liquid, powder — every kind of format.
"Glowy" isn't necessarily about highlighter and your skin finish. It's about a radiant, moist look. But you don't have to wear any highlighter, that's for fun. Sometimes having a bit of radiance in a product makes a difference. One of my favorites is the YSL Touché Eclat. That's something great to have in your purse. It helps to brighten the skin and give dimension.
What if you want to ease into being your dewy dumpling self? To ease into best dewy dumpling self, instead of taking your foundation, use a tinted foundation and add a few highlighting drops into it to make your makeup luminous and glowy. You can also use a glowing primer.
If you don't want to look like a unicorn and just want a bit of dewiness, use a more subtle one. One of my other favorites is to use a subtle highlighter like the Hourglass Ambient Lighting palette. It has three creamy colors. It's not shimmery. Instead of using a traditional setting powder, it leaves a subtle pearlescent finish.
Nam Vo's Favorite Products
Photo: Courtesy of the Vendor
Vo starts with patting this on the skin to hydrate it. Pat, don't rub, she instructs, to really infuse it into the skin. She then follows up with a face oil.
Photo: Courtesy of the Vendor
Every time Vo features this cushion compact/Korean version of tinted moisturizer in a tutorial, it sells out. She praises this for making the skin look shiny like "glass."
Photo: Courtesy of the Vendor
"I spray this on everyone and their mama," Vo explains of this hydrating mist, which adds a radiance to the skin.
Photo: Courtesy of the Vendor
Vo then starts with her first layer of highlighter, using a brush to draw this on in a C shape going from temples to cheekbones.
Photo: Courtesy of the Vendor
Then to create a multidimensional highlight, Vo layers on different highlighter textures. She uses her hand to dot on this highlighter fluid in the same place.
Photo: Courtesy of the Vendor
She uses a brush and dips it into the shade Moonstone to achieve max dewiness. That's three layers of highlighter, if you're counting.
Photo: Courtesy of the Vendor
A blush with a hint of highlighter and shimmer finishes off the dewy dumpling shine.
If you buy something through our links, New York may earn an affiliate commission.