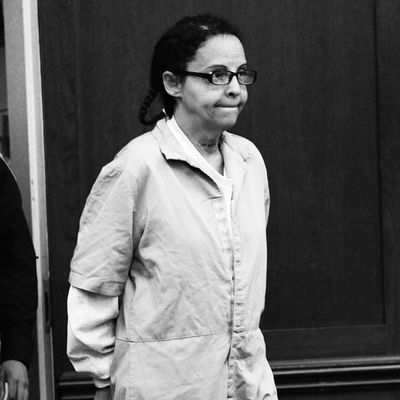 Yoselyn Ortega.
Photo: Susan Watts/NY Daily News via Getty Images
Kevin Krim leaned forward in his seat, nodding grimly as ADA Stuart Silberg delivered closing remarks at the trial of Yoselyn Ortega for the 2012 murders of Kevin's 6-year-old daughter, Lucia, and 2-year-old son, Leo. Outside the courtroom doors, nearly a dozen photographers and cameramen stood behind a vinyl crowd-control barrier screen-printed with the scales of justice.
Nearly two months after the trial's opening statements, the jury is out at the nanny trial. After surrendering their cell phones, 12 jurors retired to a private room adjacent to court, where they are now deliberating on Ortega's plea of not guilty by reason of insanity on two counts of murder in the first degree, and two counts in the second degree.
Both prosecution and defense delivered closing arguments on Monday. ADA Silberg delivered his summation, with his boss, Manhattan district attorney Cy Vance, watching from the back of the room. Kevin Krim sat in front. His wife, Marina Krim, has not been present in court since her searing seven-hour testimony about the day she walked in on Ortega wielding a knife next to Lucia and Leo's bloodied bodies.
"On October 25, 2012, this defendant went into the bathroom of the Krim apartment and murdered two innocent children," Silberg began. On the far side of the room, a man in blue jeans operated a TV camera on a tripod. (Judge Carro permitted one local news camera during opening statements, and one yesterday.) "She did it intentionally, with full understanding of exactly what it was she was doing. Every stab, every slash, each one had a purpose, and that purpose was to end the lives of those children. She had a death struggle with a 6-year-old."
Ortega, who is pleading not guilty by reason of insanity, watched from her seat at the defense table — even the killer seemed spellbound when Silberg described her crime. After stabbing Lucia Krim more than 20 times, as the girl twisted and turned, Ortega cut her throat. Next, Silberg said, the nanny turned her attention to Leo, slashing his throat from behind. He reminded the jurors of the crime-scene photo they reviewed during the first week of the trial. "The photograph that I know you'll never forget, that you'll probably never be able to remove from your memory, shows how she laid them out in that tub."
It was a brutal way to start a summation. But, Silberg argued, "brutality is important for determining what was in the defendant's mind." Since Ortega concedes that she killed the children, and is pleading not guilty by reason of mental disease or defect, the jury must assess the defendant's mind. Silberg argues that Lucia's "death struggle" demonstrates Ortega's intent to kill. To gather knives from the kitchen, then systematically kill two children with increasing efficiency, demonstrates a single-minded goal, Silberg said.
Defense lawyer Valerie Van Leer-Greenberg argues that Ortega suffers from depression with psychotic features, which rendered her incapable of understanding the nature and consequences of the crime. After the crime, Ortega told several psychiatrists she believed she was carrying out orders from the Devil when she killed the children. The lawyer's sweeping summation began with an overview of the insanity defense, invoking ancient Roman law and Talmudic code. (A stenographer seemed to suppress a giggle during the moment of grandeur.)
Van Leer-Greenberg has been an unapologetically aggressive presence in court, moving for a mistrial on a daily basis. She cross-examined a cop so aggressively, I thought he might cry. But in her closing argument, Van Leer-Greenberg struck a gentler tone. "Everyone has feelings here. No one's asking you to take them and throw them out the window," she told the jury. "What I'm asking you to do is to compartmentalize. I'm asking you to take your feelings, keep them, put them in a section of your heart, and just think with logic."
The defense's case rests largely on testimony from Phillip Resnick and Karen Rosenbaum, forensic psychiatrists who examined Ortega in the year after the crime. Ortega began reporting hallucinations during her "fifth or sixth" session with Rosenbaum, who described the defendant as "guarded." Two of her sisters testified that Ortega had a history of mental illness; they and a neighbor said Ortega complained about a "black man" or "black shadows" that followed her and talked to her in the month before the crime. (Black symbolizes the Devil in the Dominican Republic, according to a professor called to discuss mental-health stigma in Ortega's home country.) Ortega told the doctors she has no memories of the crime, which they believe suggests a dissociative episode.
ADA Silberg is as aggressive as Valerie Van Leer-Greenberg. (When Judge Carro threatened both lawyers with contempt for shouting over each other, they immediately shouted over each other in protest.) Silberg pointed to factual errors in both doctors' testimonies, and highlighted apparent signs of premeditation from hours and days before the crime (including Ortega telling a sister, "Take care of Jesus, raise him well; he is my son and I love him"). Silberg also invoked damning testimony from Ali Khadivi, a forensic psychologist. When he examined Ortega in 2016, Ortega denied everything she told the other doctors. She said she'd never heard the Devil's voice, and that she didn't know who Resnick was. Khadivi concluded that Ortega feigned psychosis in the year after the crime, and that she switched to feigning amnesia for him.
During Khadivi's examination, Ortega repeated grievances that the prosecution argues motivated the crime: Marina Krim "humiliated" her in a verbal confrontation outside the children's school, she said. She was missing out on time with her son because she spent so many hours with the Krims. That gripe, ADA Silberg argues, was Ortega's true motive. Several months before the crime, Ortega's son, Jesus, moved to New York from the Dominican Republic, where an aunt had raised him. He was 17 and "just passing through. He's on his way to college and a successful career." Yoselyn Ortega felt left behind — and grew to resent Marina, who was a stay-at-home mother. "She's got to watch Marina Krim do art classes, play with her kids, take her kids to the park, all the things she missed out on doing with her son," Silberg said. "This was about punishing Marina. Can you think of any way to punish a person more, or to hurt a person more?"
Silberg's summation also invoked family members (characterized as "missing witnesses") who played critical roles in Yoselyn Ortega's life before the crime: Celia Ortega, Yaquelin Severino, and Cathy Garcia. Celia, Yoselyn's sister, is the Upper West Side nanny who first recommended the nanny to Marina Krim. Yaquelin, a niece, wrote a reference letter falsely claiming she'd employed Yoselyn. Cathy's role is less clear: She lived in the apartment that Yoselyn shared with her son and her sister Delci, so she likely witnessed some events Delci testified to. When Silberg suggested that Celia and Yaquelin share some responsibility for the Krims' decision to hire the nanny, Kevin Krim leaned forward and nodded, his mouth set in a line, and a look of fierce anger on his face. Kevin is currently working with state lawmakers to criminalize the "material misrepresentation" in the pursuit of jobs in child care.
Ortega watched both lawyers' closing statements, sometimes looking back and forth between the speakers, judge, and the remaining lawyer sitting next to her. Ortega had several emotional outbursts during the trial — including laughing during a detective's testimony and crying during Khadivi's — but on the final two days of her trial, she was alert but calm.
"I have waited almost six years to get to stand before a jury, and ask the jury to hold this defendant responsible," Silberg concluded. "That's why I ask each and every one of you — each and every one of you — to look at the evidence, make inferences, and don't forget why we're here." After the jury left and Judge Carro retired to his chambers on Monday, Silberg stepped into the court's gallery and clapped Kevin Krim in a hug.