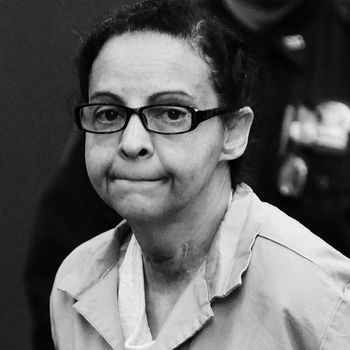 Photo: Susan Watts/NY Daily News via Getty Images
With her hands chained together in cuffs, Yoselyn Ortega wiped a tear from her cheek as she was marched out of court on Wednesday, after a jury found Ortega guilty on four counts of murder for the 2012 stabbing deaths of Lucia and Leo Krim, ages 6 and 2.
Seated in the front row of a packed courtroom, father Kevin Krim let out a sob. Nearly six years after the deaths of his two children — and seven weeks after the trial began — the nanny who murdered Lucia and Leo has been brought to justice. Her crime is punishable with up to a life sentence in prison. (A sentencing hearing has been scheduled for May.)
The jury deliberated for two days on Ortega's plea of not guilty by reason of mental disease or defect. In a private room adjacent to the court, they raised their voices, yelling loudly enough to be heard, occasionally, through the door. After a foreman delivered the verdict — and all 12 jurors confirmed the decision — Manhattan district attorney Cy Vance turned the court into an ad hoc press room, delivering a speech and confirming his office would seek the maximum penalty, life in prison. Kevin Krim hugged and shook hands with several jurors. Then, with 15 cameras pointed at them, seven jurors who had indicated a willingness to speak publicly took the dais. The group had selected David Curtis, a bald man with a long white beard, to speak on their behalf. When deliberations began, the jury was divided on Ortega's guilt. "There were some raised voices and frustration," Curtis said in a shaky voice, tearing up. "This was a very difficult decision for us. And not a decision we reached lightly or easily."
"These jurors went through hell," Krim wrote on Facebook Wednesday night. "I hugged every one of them I could. If you want your faith in humanity (and especially the courage and intelligence and dignity of New Yorkers) renewed, watch some of the jurors answering questions."
Pleading insanity is an affirmative defense, which means Ortega's team conceded the act of the crime — that the nanny killed two children she'd babysat for two years, using knives plucked from the family's kitchen. Prior to the killings, Ortega had been a competent, if unremarkable, nanny. She was always on time. She never complained or asked for a raise. She wore a uniform by choice. She was paid $500 a week for child care, plus $100 a week if she cleaned.
But in September and October 2012, something seemed to change. According to family members, she became tearful, anxious, and distressed. To the Krims, she seemed more sullen than usual — sometimes she literally dragged her feet — but it didn't seem to interfere with her ability to carry out her job. That is, until the afternoon of October 25, 2012, when the nanny missed a rendezvous with the mother and middle child, Nessie Krim. Returning to the family's Upper West Side apartment, Marina and 3-year-old Nessie opened the door to the last room in the apartment — a bathroom at the end of a long, dark hall — and found Leo and Lucia, stabbed to death and stacked in the tub. Standing over them: blood-drenched nanny Yoselyn Ortega, knife in hand. After locking eyes with Marina, according the mother's testimony, Ortega then stabbed herself, twice, in the neck. She used so much force that she fractured two bones in her neck.
Ortega's mother-son defense lawyers, Valerie and Evan Van Leer-Greenberg, argued that Ortega was psychotic at the time. She started hearing voices at age 16, said forensic psychiatrists testifying on the killer's behalf. During the weeks before the crime, she heard voices screaming at her, commanding her to kill. She saw the Devil, heard him speak to her, and felt him enter her body. During a period of dissociation, Valerie Van Leer-Greenberg argued, "her mind and her body separated metaphysically." The voices took control and Ortega became the unwitting agent of her hallucinations, the defense said.
The jury rejected that explanation. During the press conference, David Curtis cited Judge Gregory Carro's instruction that, in an affirmative defense, the burden of proof belongs to the defense. The evidence in Ortega's favor was not enough to outweigh evidence to the contrary.
And there was quite a bit of evidence to the contrary. Prosecutors accused Ortega of fabricating her hallucinations — and a credible forensic psychologist backed them up. The defense called a number of Ortega's friends and family, all of whom testified something was wrong with Yoselyn. Some said she'd complained about hearing voices and seeing things — but contradictions diminished the credibility of this testimony. None mentioned the voices or the Devil until after Ortega started talking about them, weeks after the crime, to psychiatrists. As the prosecution often pointed out, these reports occurred after Ortega had griped, repeatedly, about her boss and working conditions. She claimed her memories went blank at the time of Lucia's and Leo's deaths, and later showed no curiosity about what had become of the children she'd spent two years caring for.
Ortega also showed signs of premeditation, argued Assistant District Attorneys Stuart Silberg and Courtney Groves. Before going to work on October 25, Ortega left an envelope for her sister Delci containing her debit card, her driver's license, her passport, her Social Security card, two insurance cards, bank statements, and a wad of cash. On the door to son Jesus's room, she'd hung a pocketbook filled with family keepsakes.
Wednesday's verdict brings some closure to the grisly affair. But as ADA Silberg told the jury in his closing argument, "You've probably thought to yourself, 'Why?'" Since Ortega never took the stand, all the jury had were second- and third-party interlocutors offering their best guesses on Ortega's state of mind — often citing contradictory information. "These are vicious and heinous acts against children," Silberg said. "Marina and Kevin Krim are not going to get a satisfactory answer, not from this trial, not from anywhere. You shouldn't expect it."
Still, Silberg offered a theory. Ortega had a "grudge" against her employer, he said. "This was about punishing Marina. Can you think of any way to punish a person more, to hurt a person more," than to kill their children in their own home, then watch as they react in horror?
Silberg argued that Ortega's grievances were the product of a "distorted," but not criminally insane, mind. She knew killing the Krim children was wrong— that's why she planned to commit suicide afterward, to avoid the punishment that she now awaits. Her grievances ranged from the soap in the Krim apartment to the time she'd missed with her own child in caring for theirs. Once, Marina had told Ortega, "I don't want to see your face right now," while the two women were outside the children's school; Ortega was off the clock at the time and Marina felt she'd been rude. By all accounts, that was the worst thing Marina Krim ever said or did to the nanny. Waking up from a medically induced coma after the crime, Ortega discussed the exchange repeatedly. Four years later, she was still talking about it. She'd been "humiliated," the nanny said, launching into the same set of complaints she'd aired immediately after the crime.
During her testimony, Yoselyn's sister Delci told a story that defense psychiatrists cited as evidence of psychosis and dissociation. Yoselyn threw pots and pans around the kitchen, Delci said, flinging them into walls and onto the floor. She did this to drown out the voices in her head, according to defense psychiatrist Karen Rosenbaum. But psychologist Ali Khadivi, who testified for the prosecution and believes Ortega faked psychosis, offered another explanation: "There is a close relationship between anger and depression and anxiety. In fact, there's a term called 'anger attack' that is quite often seen in depressed people." Perhaps Ortega was more like a person who, in a fit of rage, throws a dinner plate at the wall, shattering it, as an expression of anger or for emphasis during a perceived fight. But instead of destroying dinnerware, she destroyed two children.
Ortega has cried many times in court — but only during testimony about her own misfortune. She has never visibly reacted to testimony about the slain children, their agonizing deaths, their parents, or their sister. Ortega also babysat 3-year-old Nessie Krim, the girl holding her mother's hand when they walked into the murder tableau. On October 25, Nessie saw her siblings' bodies and watched as her nanny attempted suicide. Marina remembers Nessie letting out "a high-pitched little 3-year-old scream" as she scooped up her daughter and ran. Eyewitnesses who saw Marina wailing, "My babysitter killed my kids!" also recalled the girl in her arms. Through her own trauma and tears, Nessie was trying to comfort her mother. ("She was scared of the bathroom, she was scared of the dark for a long time," Kevin Krim testified, before the defense objected and cut him off.) "She loved the children," several defense witnesses said of Ortega. But perhaps she loved them the way that you or I might "love" a set of dinner plates: nice things to care for when possible — but, if a deranged person believed breaking a few would make a point, maybe she would.
Today, Nessie Krim is 9 years old. She's doing well, her parents say. She attends elementary school and plays with her little brothers — in the years since Leo's and Lucia's deaths, Marina and Kevin Krim have had two more children.
The horrors in this case weighed heavy on the court. "I will never be the same," one alternate juror said, through tears, when released from jury duty. For two months, the trial's 12 jurors and six alternate jurors listened to testimony about the Krim children's deaths. They studied grisly crime-scene photos, including one of the deceased children in the tub. They went home each night with instructions not to discuss the case with anyone, including each other. When the alternates were released, after summations, three stayed to wait for a verdict. Wandering, dazed, past a line of news reporters, 31-year-old Chloe Beck and 27-year-old Brittany Yee stuck to each other like magnets. The first time they talked about the trial, they were in front of cameras from ABC, CBS, WNYC, Univision, Noticias, the New York Times, and Reuters. Chloe Beck said she couldn't look at her own bathtub without thinking of the children. Both agreed with the guilty verdict.
A number of witnesses used the phrase "pure evil" to describe Ortega. But one of the most maddening elements of this case — and why writing off the defense writ large is so hard — is that Ortega never acted like pure evil before the crime. She donated to 27 charities, the defense team liked to point out. And she seemed keenly aware of — even obsessed with — the vulnerability of children. Particularly when that child was her son, Jesus. The boy seemed to trigger simultaneous fear and doting in his mother. And anxiety. And guilt.
Born in New York City, Jesus was 4 years old when Ortega brought him to the Dominican Republic to be raised by her sister, Miladys. She sent money and visited on holidays; he sometimes visited New York. There he stayed, mostly, until age 17 when, six months before the crime, he returned to New York to live with his mother.
Ortega was obsessed with her son's well-being — to the point of paranoia, said family and friends. She hated to let Jesus go outdoors, forcing him to quit the baseball team. She made him hide under the bed every time his dog barked, in case the dog was signaling intruders. When he played basketball with his friends, she hid in the shadows, watching. The last text message Ortega sent, before her phone switched off at noon on the day of the crime, was to Jesus. "Mommy ya estoy in the parada," Jesus said. Mommy, I'm already at the stop. "Mommy ya voy en el autobus." Mommy, I'm on the bus. "OK," Yoselyn Ortega replied.
The defense argued that the stress of Jesus's arrival pushed Ortega into the psychotic episode that consumed her on the day of the crime. "Every time she was alone with [the] responsibility of her son, she couldn't handle it," defense psychiatrist Dr. Rosenbaum wrote in her notes, quoting a family friend. The prosecution also argued that Jesus's arrival was a trigger, too — but merely of anxiety, depression, guilt, and resentment. By the time Jesus came to live with his mother, he was 17 and "just passing through. He's on his way to college and a successful career." Working as a nanny for stay-at-home mother, "She's got to watch Marina Krim do art classes, play with her kids, take her kids to the park, all the things she missed out on doing with her son."
Against all odds, that son seems to be fine. When Jesus Frias testified for the defense, he had the clean-cut look of an office intern: pressed khaki pants, pink oxford shirt. In the years since the crime, Jesus has dropped his mother's surname and switched to his father's. He finished high school, enrolled at SUNY Albany, and graduated summa cum laude. He got a job in a medical research lab, applying photoluminescent nanodiamonds to cancerous cells. He applied to 20 medical schools, and is waiting to hear back. Polite and amiable, Jesus thanked everyone he interacted with in court — judge, lawyers, bailiff, stenographers, and court security officers in bulletproof vests.
Since his testimony, I have thought often of Jesus Frias. He seems to be thriving in spite of his mother's unthinkable crimes. But in his young life, budding career, and scholastic success, Jesus also illustrates the profound loss that Yoselyn Ortega caused. Because of Yoselyn, we will never know who Lucia and Leo Krim could have grown up to be. At the time of his death, Leo was still learning how to speak.
Marina Krim has not been in court since her testimony in the first two days of the trial. Kevin Krim sat with friends and supporters from the district attorney's office on the days he came to court — mostly to face down Ortega relatives he personally knew. When the verdict came in, Kevin sat with Chloe Beck and Brittany Yee to his left, and three journalists to his right. He was still in court, hugging and quietly speaking to people, when the press filed back into the room for Cy Vance's press conference. But he slipped out before the press could ask questions. (Kevin later posted a public statement on Facebook. Marina Krim posted a message on the Lulu and Leo Fund's Instagram.) Kevin's family was at home. He went to them.