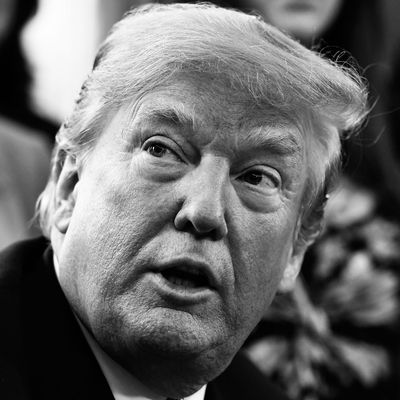 Donald Trump.
Photo: Ricky Carioti/The Washington Post/Getty Images
Just a few months after Donald Trump announced his candidacy for president of the United States, the National Enquirer paid doorman Dino Sajudin $30,000 in exchange for the rights to a rumor he had heard that Trump fathered an illegitimate child with one of his former employees at Trump World Towers, AP reports.
Sajudin, a doorman at Trump World Towers in New York City, reportedly signed the deal in November 2015. In addition to the money he received for signing over the rights to the story "in perpetuity," the contract subjected him to a $1 million penalty if he told anyone about the rumor or the terms of his deal with the Enquirer. The company allegedly released Sajudin from the deal after Trump's election.
Dylan Howard, Chief Content Officer at American Media Inc (AMI) — the parent company of the Enquirer, whose publisher, David Pecker, is an outspoken Trump supporter — told the AP that the company paid the doorman, because if the tip proved to be true, it would sell "hundreds of thousands" of magazines. But according to RadarOnline, another AMI publication, after four weeks of reporting the story, the Enquirer determined it was not true. According to the AP, however, sources told them the motivation behind quashing the story may have been more nefarious:
The Enquirer staffers, all with years of experience negotiating source contracts, said the abrupt end to reporting combined with a binding, seven-figure penalty to stop the tipster from talking to anyone led them to conclude that this was a so-called "catch and kill" — a tabloid practice in which a publication pays for a story to never run, either as a favor to the celebrity subject of the tip or as leverage over that person.
The AP says they cannot determine whether the rumor is true, and that the woman in question denies she'd ever had an affair with Trump.
This is the second report of the Enquirer paying sources to kill potentially damaging stories about Trump. In March, former Playboy model Karen McDougal claimed AMI paid her $150,000 in 2016 to keep quiet about her alleged 2006 affair with the president.
Read the full report here.
Updated, 04/12/2018, 4:00 p.m.:
Thursday afternoon, CNN producer Sonia Moghe tweeted the following statement from Dino Sajudin: