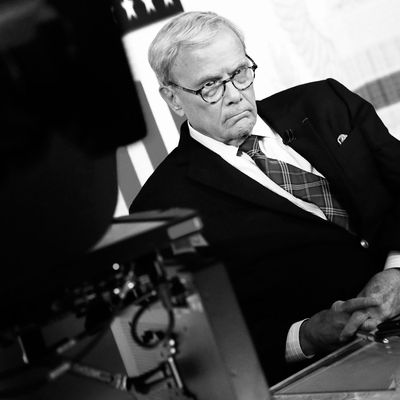 Tom Brokaw.
Photo: NBC/NBCU Photo Bank via Getty Images
Just a day after two women accused NBC anchor Tom Brokaw of sexual misconduct, dozens of the host's former and current colleagues signed a letter defending the "man of tremendous decency and integrity." According to a new "Page Six" report, not everyone whose name is on the letter agrees with its sentiments, and many "lower-level" staffers reportedly only signed it out of fear of repercussions.
Though former NBC News anchor Linda Vester and another unnamed woman's allegations paint Brokaw as a man with no concept of consent or workplace boundaries, more than 60 of the anchor's former and current female colleagues claim that Brokaw has always treated them with "fairness and respect." But it turns out, not all of them genuinely feel that way.
"We felt forced to sign the letter supporting Brokaw," one NBC News staffer said. "We had no choice, particularly the lower level staffers. The letter was being handed around the office and the unspoken threat was that if your name was not on it, there would be some repercussion down the road."
She continued: "Execs are watching to see who signed and who didn't. This was all about coming out in force to protect NBC's golden boy; the network's reputation is tied to Brokaw … If more women come forward, that's a big problem."
While an NBC News representative said that the letter was a "purely grassroots effort," "Page Six" draws attention to the collective statement's initiator: Goldman Sachs executive Liz Bowyer, who produced the Tom Brokaw Reports docuseries and worked on two of the anchor's books.
Meanwhile, Brokaw has still maintained his innocence, claiming that he's been the victim of a "drive-by shooting."