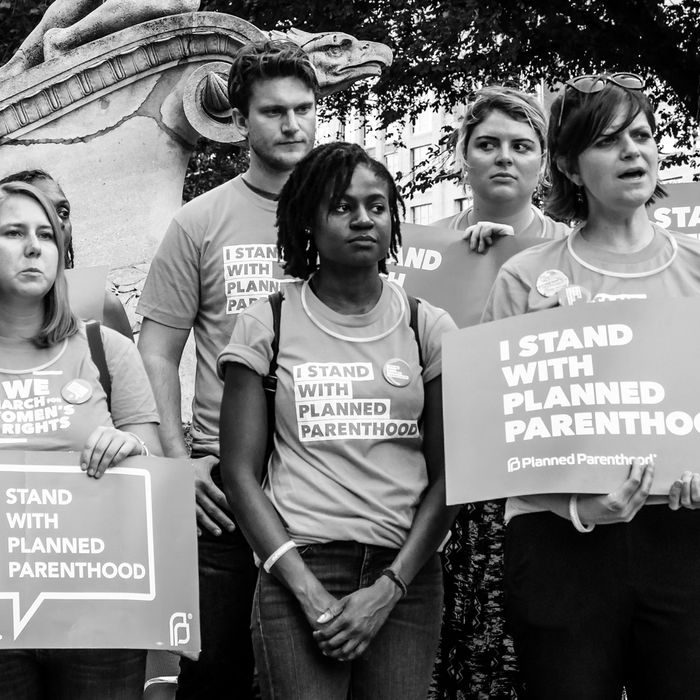 Demonstrators in support of Planned Parenthood.
Photo: Pacific Press/LightRocket via Getty Images
Nebraska lawmakers have voted in favor of a bill that would deny federal family-planning funds to Planned Parenthood, ThinkProgress reports. Now, all the bill needs is a signature from the governor, who has made his anti-abortion stance clear in the past.
The controversial budget bill, which passed 38 to 6 on Tuesday, blocks health providers from receiving funds from the Title X federal family-planning program if they perform, counsel in favor of, or refer patients to abortion-related services. Opponents of the bill argue that it specifically targets Planned Parenthood of the Heartland, which serves 8,000 Nebraskans.
The last rule that Barack Obama proposed before leaving office prevented states from withholding Title X federal family-planning money from Planned Parenthood, but in April 2017, Donald Trump signed into law a bill that reversed it. Since that date, several states, like South Carolina and Arizona, have attempted to defund Planned Parenthood, but none have made it quite as far as Nebraska.
The bill now goes to Republican Governor Pete Ricketts, who essentially asked for this exact bill in his 2018 state budget proposal. If Ricketts signs it — and it's expected that he will — the legislation will be effective immediately.
Following today's vote, Meg Mikolajczyk, the associate general counsel and senior public affairs manager at Planned Parenthood of the Heartland, called Nebraska lawmakers' anti-abortion agenda a "disgrace" and pledged to keep the clinic's doors open.
"Regardless of whether the new Title X rules go into effect July 1 or not, this fight is not over," she said in a statement. "We will keep fighting for our patients, and we are exploring all options. Our doors will remain open, and we will continue to offer all of our services. We will work with each patient individually to ensure they receive the care they need."