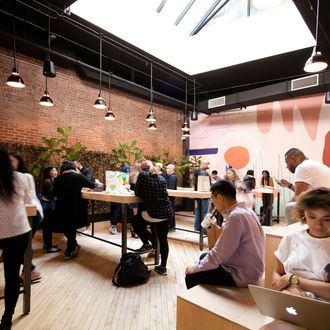 Canal Street Market.
Photo: Melissa Hom
One of the last holdouts of grimy, uncomfortable, "authentic" downtown New York will soon disappear. And ten years from now, when we're all nostalgic about the overcrowded Canal Street of fake Chanel bags and sun bleached Fuck You You Fucking Fuck T-shirts, we'll have two landlords to blame (or thank, reader's choice): Philip Chong Jr. of HCRE and Albert Laboz of United American Land.
It was Chong first, a Chinatown native, who conceived of Canal Street Market, a 12,000-square-foot bazaar and food hall that opened off of Lafayette Street in September of 2016. "We were trying to offer something new to the neighborhood where people could come eat and shop and hang out," he says. A year-and-a-half later the market has become both a foodie and ceramics destination. During that time the office spaces above the market and down the block filled with stylists (Mel Ottenberg was a famous first) and fashion brands. Mansur Gavriel, Acne, and Area all have headquarters on the block, their hidden offices quietly foreshadowing what all those ground floor empty storefronts might eventually become.
Then, in December, the massive Roman and Williams Guild arrived, taking over one whole corner of Canal. As the first multi-hyphenate retail showroom/flower shop/restaurant/café for Roman and Williams, a design firm that has worked on both Gwyneth Paltrow's home and the Ace Hotel, it gave a tony veneer to the street, but the Guild's entrance is still on Howard Street, Canal's more fashionable parallel. Same with the sneaker reseller emporium Stadium Goods, which was recently infused with an investment from LVMH. Resellers could sell their wares off Canal, but to shop the rare goods, the cobblestoned streets of Howard were still the point of entry. Aside from a stunt Diesel pop-up T-shirt shop playfully selling fake-looking merch alongside Canal's real knockoff heroes, there wasn't much to see on the block besides empty, graffitied storefronts.
And that's where Laboz comes in, the man who owns many of those vacant storefronts. Over the past few months he's united a coalition of fellow Canal commercial real-estate landlords, who've been sitting on empty properties for years, to turn their 22 vacant stores on Canal between Broadway and West Broadway into what he's calling an Experiential Arts & Innovation District. They've partnered with Laura O'Reilly of Wallplay, a platform that matches empty storefronts with artists, brands, and programming, and Sonny Gindi, the guy behind the Instagram account @Vibes to fill the stores with a mix of new media art galleries and experimental retail pop-ups.
"We're not just hanging paintings in the window and calling it an art gallery," Laboz says. The stores will be similar to the types of experimental branded spaces O'Reilly and Wallplay have worked on in the past like Refinery 29's 29 Rooms, where she transformed a warehouse in Williamsburg into an Instagrammable mecca that people waited on lines around two blocks to photograph. While those kinds of heavily branded not-quite-retail, not-quite-gallery, meant-for-social-media spaces have popped up all over the city, Laboz and O'Reilly plan on making Canal Street's 22 storefronts the official destination for them.
They've already signed on KidSuper, a fashion brand that'll open an art gallery and retail pop-up. In their effort to highlight and acknowledge the history of Canal, and work alongside the existing Canal Rubbers and Canal Plastics, the Brooklyn-based light art collective NITEMIND will have its own gallery space of rotating installations right next to the lighting shops they've purchased from for over a decade. And O'Reilly will work with fellow members of the New Museum's creative tech incubator New Inc., of which Wallplay's a member, to give them spaces to present and experiment with their work, in real life, in front of a live audience of window shoppers. There will be a food and beverage concept. A musician, who has yet to be named, will take over one of the shops. All of the shopkeepers and artists will rotate out at varying intervals from weekly to monthly to longer, and the entire experiment is ongoing until, one presumes, the whole of Canal is nearly unrecognizable. Or at least filled with lines of influencers.
The hope is that while Chelsea and the Lower East Side have become clusters for traditional galleries, Canal will become the home for new media art and tech-related experiences like VR museums and digital works that the art world doesn't quite know what to do with yet because it's harder to sell and collect and there are just fewer places to showcase it. "We're creating a much needed outlet for what will be the future of art, which is technology integration," O'Reilly says.
As for what's already there on the street, O'Reilly and Laboz are hoping to co-exist, becoming a destination that can drive even more foot traffic to everything else on Canal, a street that already gets something like 10,000 passerbys a day. But of course we'll see if the artists ultimately lead the way to higher rents.
"We think this is going to be transformative," says Laboz.
"Literally." Laura finishes.