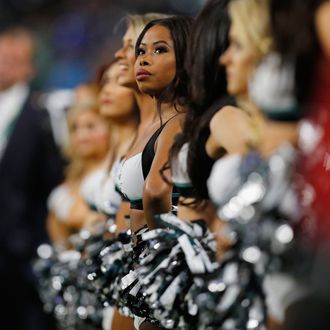 Photo: Kevin C. Cox/Getty Images
Following the recent termination of New Orleans Saints cheerleader, Bailey Davis — who broke the rules of her team by fraternizing with players, (according to rumors she denies), and posting a photo of herself in a black lace bodysuit on Instagram — the Times reviewed over a dozen NFL cheerleader handbooks to find out what, exactly, was written in them.
Unsurprisingly, there's not a lot to cheer about.
In addition to physical regulations like periodic "weigh-ins" and hygiene "tips" on everything from hair removal to using tampons, many cheerleaders face sartorial scrutiny as well. There are rules regarding details as small as piercings and nail polish, to appearances off the field. For some, wearing sweatpants in public is forbidden.
"The club's intention is to completely control the behavior of the women, even when they are not actually at their workplace," Leslie Levy, who represented cheerleaders who sued the Jets and the Oakland Raiders, told the Times.
While on the field, cheerleaders are asked to wear very little when it comes to their uniforms. (Oftentimes, they have to purchase them out of pocket as well, even though they only make a "little more than minimum wage." They're also asked to change in and out of them only when they've left the stadium.) But in their personal lives, a skimpy outfit shared on social media is enough to get them fired.
This is exactly what happened to Davis. After being scolded by Saints officials for speaking with players on social media, (Davis says they contacted her), she made her Instagram account private. Even still, the team obtained a photo of her wearing a one-piece outfit they felt fell under the classification of "nude, seminude, or lingerie," which is forbidden in the handbook.
"Very poor judgement to post a picture like that especially considering our recent conversations about the rumors going around about u," Ashley Deaton, the senior director of the Saintsations, wrote to Davis in a text message.
Davis was fired four days later. She's since filed a complaint with the Equal Employment Opportunity Commission claiming unfair treatment.