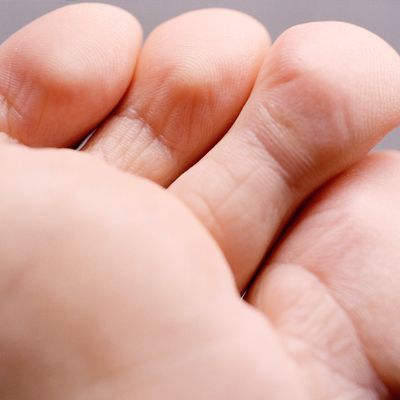 Non-cocktail toes.
Photo: Véronique Beranger/Getty Images
Nick Griffiths has donated his toes to mixology.
Back in February, Griffiths was hospitalized for extreme frostbite on his hands and feet after participating in the Yukon Arctic Ultra race, which is billed as "the world's coldest and toughest ultra." As a result of his injuries, his big toe and two middle toes were amputated on Wednesday. When it came time to decide what to do with the severed digits, Griffiths generously announced that he would be donating them to Dawson City's Downtown Hotel in Canada's Yukon Territory, home of the infamous Sourtoe Cocktail.
Well, actually, the bar asked for them.
"They basically said, 'Can we have them if you're not going to need them anymore?'" Griffiths told the CBC from his home in Bolton, England, on Thursday. Seems like a reasonable request.
The Downtown Hotel has been serving the Sourtoe cocktail — a dehydrated human toe served in the alcohol of your choice! — since 1973, when a Yukon local found a jar with a preserved toe in it and was like, "What if we put this in drinks?" The bar has had seven more toes since then, two of which were accidentally swallowed, and one of which was gulped down, seemingly on purpose, in 2013, by a man who was later fined $500 (the fine has since been increased to $2,500.) (For what it's worth, I think if you drink the toe cocktail, you should be able to keep the toe. But that's just me.)
Griffiths little toesies are currently living in "three little jars" in his bedside cabinet in England. "So I just need to try and find a way of getting them to Canada," he said.
Best of luck to Griffiths, and all the people whose lips will touch his severed toes. If you would like to see what the Sourtoe cocktail looks like, watch this video here, but I'm not embedding it because I don't want you to barf everywhere.