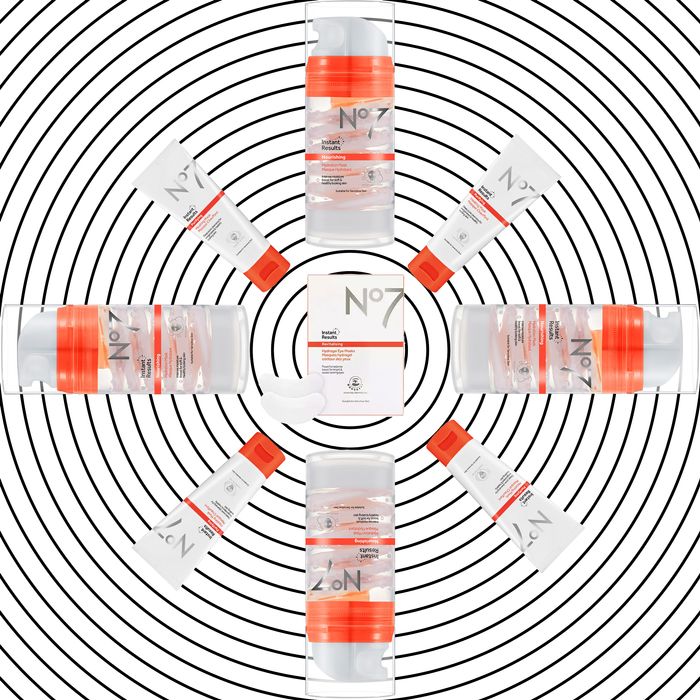 No.7 is the near-century-old brand created by U.K.-based pharmacy Boots, and it's the only brand BBC once said had convincing anti-aging effects. The affordable drugstore line released a new line of face masks that are just as effective as the brand's anti-aging products. The three Instant Results face masks tackle different skin-care concerns and are perfect for multi-masking for combination skin.
All of the masks are easy to use, but the eye masks are the simplest and require the least amount of effort — there's no rinsing required. Sometimes, even when the rest of your face looks like it got a full eight hours of sleep, your eyes look like they're desperate for three more. That's when No.7's Revitalizing Hydrogel Eye Masks are most beneficial. Like most eye masks, these are shaped like a kidney bean to cover the under-eye area, but the gel-like mesh keeps them from sliding down your cheeks. The cooling masks deliver a brightening mix of vitamin C and vitamin E to the eyes to de-puff and minimize the appearance of dark circles.
To concentrate on the rest of the face, No.7 released two face masks that will hydrate and detox skin. The Nourishing Hydration Mask uses natural fats to hydrate skin and help slow signs of aging. The third mask works wonders for oily and acne-prone skin. The Purify Heating Mask has pumice particles that gently exfoliate while Zeolite clay warms skin to open and deep clean pores of excess oils and dirt. While it works to clear away buildup, the mask doesn't strip skin of nourishing oils so skin remains moisturized and healthy-looking.
The three Instant Results masks are available now at Ulta Beauty.
If you buy something through our links, New York may earn an affiliate commission.