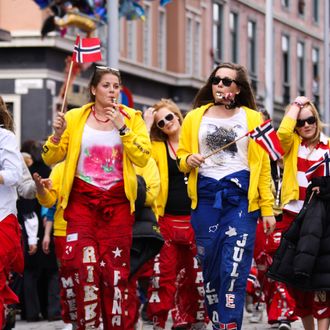 Norwegian teenagers during
russefeiring.
Photo: Morten Falch Sortland/Moment Editorial/Getty Images
No matter how much coasting you did during your last semester of high school, Norwegian teens do it better. Every year, the graduating class takes part in russefeiring — a stretch of insane partying that involves drinking heavily, renting party buses, wearing patriotic outfits, and, apparently, having sex in roundabouts.
The latter is apparently enough of a problem that the Norwegian government had to release an official statement, one that doesn't so much warn as it does politely ask the teens to stop having traffic-circle sex. Per Reuters, the head of the Public Roads Administration, Terje Moe Gustavsen, said the following in "No to sex on roundabouts:"
"Everyone understands that being in and around roundabouts is a traffic hazard. It may not be so dangerous for someone to be without clothes on the bridge, but drivers can get too much of a surprise and completely forget that they are driving."
Norway, you may have an extremely fun partying culture and an extensive social safety net, but you cannot have it all!