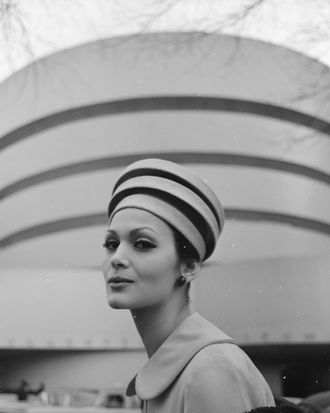 A photo selected by museum curator Anne Wilkes Tucker:
Architectural hats
, by Michael A. "Tony" Vaccaro, 1960.
Photo: Library of Congress; Prints & Photographs Division
Renowned museum curator Anne Wilkes Tucker is an inspiration for anyone who dreads a full inbox: She went through one million photographs* housed in the Library of Congress in just a few years, and now she's selected 440 of them for a sweeping new exhibition in Los Angeles. The show features rarely seen images of iconic moments in American history. "I depended on the library staff to bring me boxes," she explained in an interview. One morning they brought the NAACP photo archive, and the next: a box filled with Charlie Chaplin.
The show "Not an Ostrich: And Other Images From America's Library" opens this Saturday, April 21, at the Annenberg Space for Photography. "This exhibit is about sports, politics, arts and entertainment, buildings, inventions," she said. "I would be shocked and disappointed if there wasn't one photo in there [where] someone wouldn't want to know the backstory." The photographs spotlight important moments throughout American history, from the first "selfie" taken in 1839 to civil-rights era portraits to early photos of Oprah Winfrey.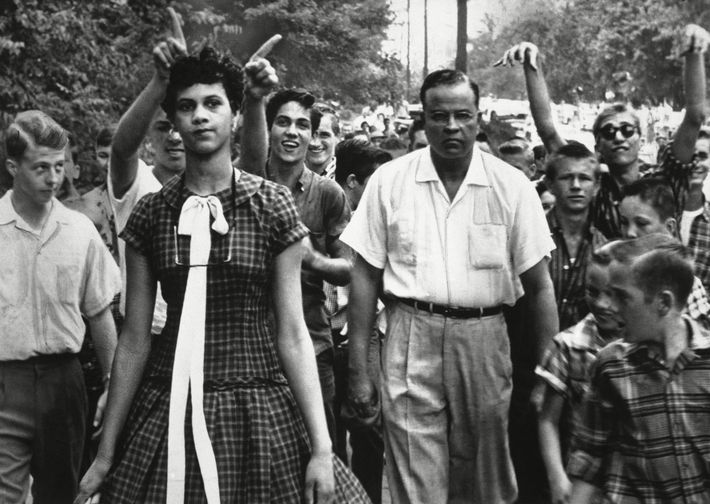 The Annenberg Foundation's president and CEO, Wallis Annenberg, thought of doing the show after she saw the tagline "America's Library" while watching TV. In 2015, she commissioned Tucker to work through the Library of Congress vaults and unearth quintessential snapshots. The exhibition's title is inspired by a photograph taken in 1930 of a New York woman holding a goose — her prize, as the winner of the 41st annual "Poultry Show" at Madison Square Garden. "Not an ostrich," the caption reads, "but the oddly plumed 'Floradora Goose.'"
Librarian of Congress Dr. Carla Hayden, the first woman and African-American to hold the position, since 2016, will attend the show's opening this Saturday evening alongside Annenberg, Tucker, and Dorothy Counts, shown in the photograph above. "We want people to realize that the Library of Congress is a treasure," Dr. Hayden said. "It's America's historical playground." Since being sworn in, her work has centered on digitizing archives to increase access for the public. Scroll to see more photos from the show.
"Not an Ostrich" will open April 21 and run through September 9, 2018, at the Annenberg Space for Photography in Los Angeles.
* This post has been corrected to show that Tucker studied one million photographs. The original version incorrectly stated that she had studied 14 million.