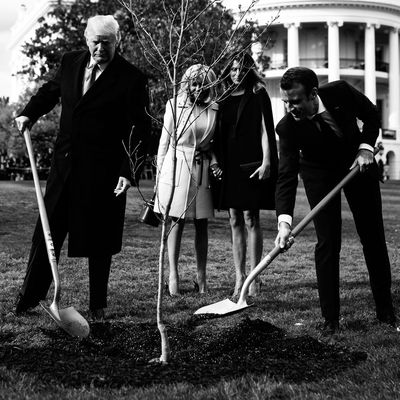 Donald Trump and Emmanuel Macron planting a tree.
Photo: The Washington Post/The Washington Post/Getty Images
Here are a few cool things about trees: They absorb carbon dioxide, they're quite beautiful, and they typically don't move, which is why the BBC's report that the tree sapling French president Emmanuel Macron gave to Donald Trump has mysteriously disappeared is extremely disturbing.
Let's start from the beginning. On the first day of his official state visit, Macron gifted his "special" friend a baby oak tree as a reminder of "these ties that bind us," because that's just what friends do, okay? The two adult men then awkwardly planted the little guy, thinking that the tree would spend the remainder of its life in that one spot. WRONG.
But according to Huffington Post, the tree wasn't stolen or killed. Instead, its delicate roots were ripped out of the ground "for a good cause," and it is currently "under quarantine," as required by U.S. Customs.
While it is unclear where exactly the oak is, it is reportedly "doing well" in its temporary home, where it almost certainly was planted with more care.