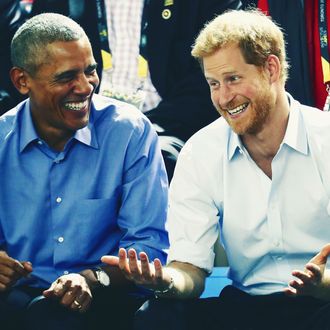 Barack Obama and Prince Harry.
Photo: Chris Jackson/Getty Images
As the upcoming royal wedding between Prince Harry and Meghan Markle inches closer and closer (how time flies!), there's been a lot of speculation as to whether Barack and Michelle Obama would be invited to the nuptials — especially since the royal ginger is friendly (and dare we say, perhaps even close) with the former president and First Lady. But now, a spokesperson for Kensington Palace has confirmed that the Obamas won't make the guest list — nor will any other world leader, including Donald Trump, for that matter.
Back in December, Prince Harry told CNN that he didn't want to "ruin the surprise" as to whether the Obamas would be invited to his royal wedding. It had been said that Prince Harry and Markle were quite "keen" to invite the former First Couple to the nuptials, but given that they didn't seem to want to invite President Donald Trump, that may make things a bit … awkward between the two countries. So, the couple had reportedly been "strongly advised" to not invite their pals Barack and Michelle to their wedding.
On Monday, the Palace confirmed that the Obamas won't be attending. According to the Daily Mail's Rebecca English, the couple decided not to invite any political leaders — from abroad or in the U.K. — to the event, which they're apparently allowed to do since Prince Harry is not the direct heir to the throne.
But even though the Obamas aren't invited, sources told English that Prince Harry and Meghan Markle "are very much looking forward to seeing them soon." In the meantime, we guess Trump can stop checking his mailbox for a royal-wedding invite …