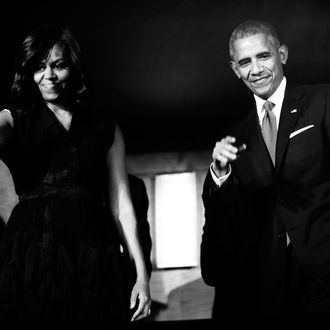 Michelle and Barack Obama.
Photo: Aude Guerrucci-Pool/Getty Images
Right on schedule Monday, Kate Middleton popped out a historically large baby boy, who does not yet have a name but could very, very soon. While an incalculable number of people would like to swaddle and coo at the Big Boy, one person publicly congratulated the Duchess and Prince William who actually has a shot at meeting the little cherub: Michelle Obama.
On Monday evening, the former First Lady Instagrammed a photo of Barack, Prince William, and Prince George, who's adorably sporting a white bathrobe, with a caption that speaks for herself and her husband.
"Barack and I are thrilled to congratulate The Duke and Duchess of Cambridge on their newest arrival!" she wrote. "We hope to meet him soon for a Kensington Palace pajama party. I'll wear my robe!"
Hopefully, by their future meeting, the baby boy has the perfect name.