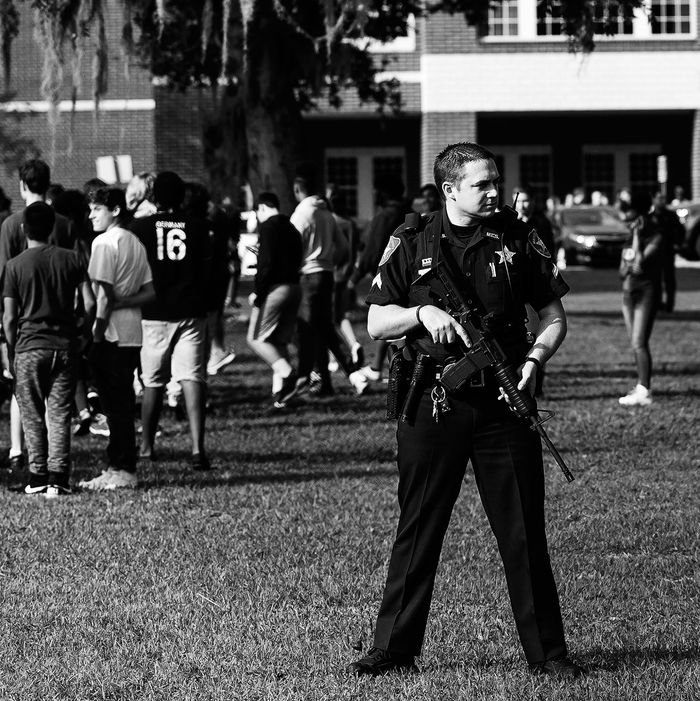 Forest High School on Friday morning.
Photo: Doug Engle/AP
On Friday, students from across the U.S. participated in the second National Walkout Day, which was organized in the wake of the horrific Florida school shooting in February. But before the protest began that morning, one student at a different Florida high school was shot in the ankle and rushed to the hospital, CNN reports.
The shooting occurred at Forest High School in Ocala, Florida, shortly before the planned protests were set to start. The student who was shot is reportedly not suffering from any "life-threatening" injuries, though Marion County Sheriff Billy Woods did say in a press conference that the shooting was "intentional." The 19-year-old suspect, who is not a student at the school, is in custody.
Back in February, 17 people were killed after a former student opened fire at Marjory Stoneman Douglas High School in Parkland, Florida. Since then, a number of the student survivors have gone on to become outspoken gun-control activists, organizing the nationwide March for Our Lives event as well as monthly school walkouts.
During the first walkout in March, which was held exactly one month after the Parkland shooting, Morgan Roof — the younger sister of Dylann Roof, who murdered nine people at a Charleston church in 2015 — was arrested after bringing weapons and guns to her high school in South Carolina. Roof had posted on Snapchat earlier that day, "I hope it's a trap and y'all get shot."
This post has been updated.