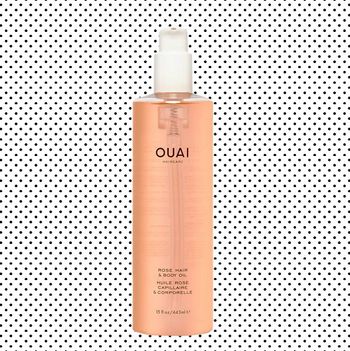 Any beauty-obsessed person probably knows a thing or two about oil.
Whether you're a coconut oil connoisseur or an argan oil aficionado, there's an oil for every skin or hair need, which makes stockpiling them so easy. Jen Atkin, celebrity hairstylist and founder of the Ouai hair-care line, made an easy and aesthetically pleasing way to streamline your beauty routine with her bestselling Rose Hair and Body Oil. She also just supersized the bottle (the original product was three ounces and the new one is 15), which should help lessen the crowding situation in your bathroom.
The oil is designed to be used all over: shea oil and absinthium oil help rehydrate and moisturize hair and skin, while rose-hip oil can help fade scars and hyperpigmentation over time. The rose oil also purportedly reduces redness and gives an added glow when applied on the face. The combination of ingredients isn't heavy and won't weigh down hair or leave evidence of your newfound oil obsession all over your leather bag and clothes. Like Ouai's other products, it smells just as good as it looks, with notes of lychee, rose, and white musk.
The Magnum Rose Hair and Body Oil is limited edition and available now from Ouai.
If you buy something through our links, New York may earn an affiliate commission.