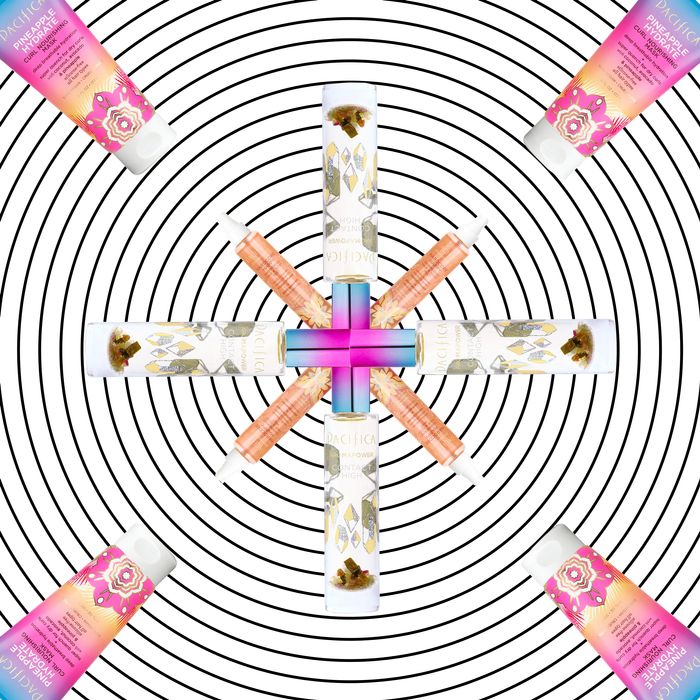 While many claim crystals are great for the mind, body, and soul, they often get a bad rap. (Maybe blame Spencer Pratt from The Hills.) But Pacifica Beauty wants to convince you they not only belong on your shelf, but in all of your beauty products as well. The vegan and cruelty-free brand created a whole line of products that are infused with the popular wellness accessory. From perfumes to hair products, the Crystal Collection has something for every beauty need, and might even have a healing effect for some people.
The collection, which first started with the Aromapower aromatherapy line, includes more than 30 items that come in equally metaphysical-like packaging. The best product might be the the Hardcore Happy Aromapower Shimmering Hair and Body Mist that's like a more affordable Fenty Beauty Body Lava, and can also be used in your hair. There's also an on-theme perfume called Contact High, but luckily it doesn't smell like a foggy music venue. Instead, it's a fresh blend of lemongrass, watermelon, and "electric stone" tourmaline.
For those who want to make their bathing routine more transformative, the Crystal Watermelon Energy Bath Bomb will make the tub shimmer with gold flecks and make you feel like you're covered in invigorating crystals that might solve all your problems. If they don't, at least you get a relaxing and luxurious bath out of it.
Along with the crystal collection, Pacifica released hair products for every hair type. The curly line is the most impressive, and the Curl Nourishing Mask plumps curls with moisture from hyaluronic acid and seals everything in with olive and coconut oil. Any routine can be finished with the Texturizing Hair Perfume that adds more definition to curls or waves and leaves behind a rich coconut scent.
The crystal line is available on Pacifica Beauty's website and some products are available exclusively at Ulta Beauty.
If you buy something through our links, New York may earn an affiliate commission.