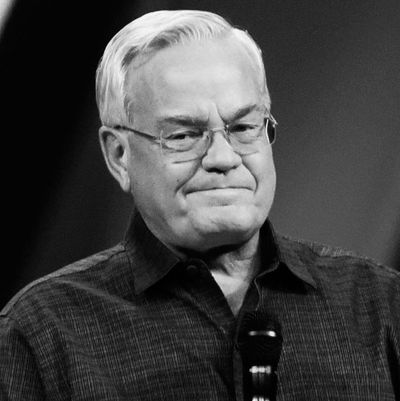 Bill Hybels.
Photo: Mark Black/AP Photo
On Tuesday, Illinois megachurch pastor Bill Hybels announced that he's resigning amid sexual-misconduct allegations made by church members and employees. Last month, the Chicago Tribune published claims that women made against Hybels spanning decades.
Below, what to know about the Bill Hybels scandal.
Who is Bill Hybels?
Hybels served as spiritual adviser to President Bill Clinton during the Monica Lewinsky scandal. He's written several books on running Christian organizations and has a reputation for promoting women in leadership.
What is Willow Creek?
A Chicago-area evangelical megachurch that Hybels founded in 1975. It's now one of the biggest megachurches in the U.S. and hosts more than 25,000 visitors per weekend at its main location in South Barrington, Illinois.
Hybels established the Willow Creek Association in 1992, a network of 11,000 churches around the world that subscribe to Willow's core values.
What are the allegations against Bill Hybels?
Hybels allegedly made suggestive comments, hugged for too long, gave an unwanted kiss, and invited a staff member into his hotel room. A woman who claimed she had a prolonged consensual affair with Hybels said the claim was false.
Willow Creek church elders conducted three reviews with the help of an outside attorney after claims about Hybels came to their attention over four years ago. Hybels was cleared by the church, which said it found no evidence of misconduct. Former elders Betty Schmidt and Nancy Ortberg suggested that the church's investigation was inadequate.
Three former pastors, a woman who made an allegation against Hybels, and the wife of a Willow Creek Association pastor led an independent investigation.
How did Hybels respond to the allegations?
He denied all of the allegations and called them "flat-out lies." Hybels apologized to the church for initially being defensive and told them that he "placed myself in situations that would be far wiser to avoid. I was naive … I commit to never putting myself in similar situations again." The former pastor said he stepped down earlier than his planned October 2018 retirement because he didn't want the controversy to distract the congregation.
Who will replace Hybels?


Effective on Tuesday, chief executive Heather Larson and lead pastor Steve Carter will take over. Willow Creek is considered an evangelical pioneer for allowing pastors of the opposite sex who are not married to each other — as is the case for Larson and Carter — to pastor together.