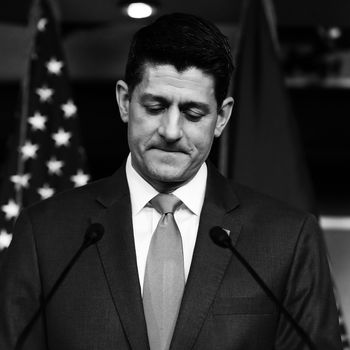 Paul Ryan.
Photo: Mark Wilson/Getty Images
On Wednesday, House Speaker Paul Ryan announced he wouldn't be seeking reelection. In less than a year, Congress will finally be free of one of its most dangerous conservatives, who exacerbated economic inequality across the country, tried repeatedly to repeal the Affordable Care Act, and fought to diminish the rights of women (in particular, reproductive rights and maternity care).
The announcement that he is stepping down has been the first good thing the Speaker has done to help women in his career. In a statement, NARAL Pro-Choice America said: "People across America can now look forward to a time where Paul Ryan is not working every day to undermine our fundamental freedoms, including reproductive freedom." Many people also took to social media to express their joy and relief at the news.
Here, some of the best social-media reactions to Ryan's announcement.
We can only hope he's replaced in Congress by someone who actually wants to advocate for women and families. In the meantime, bye!