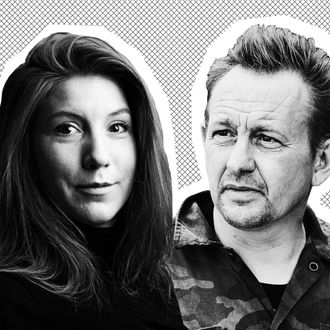 Kim Wall, Peter Madsen.
Photo: Reuters/Getty Images
Danish inventor Peter Madsen has been found guilty of murdering journalist Kim Wall, bringing to an end one of the most high-profile criminal cases in recent history.
A Copenhagen court — a judge and two jurors — convicted him of premeditated murder, sexual assault, and the desecration of a corpse on Wednesday, The Guardian reports. Madsen, 47, received a life sentence — which is rare in Denmark, and averages around 16 years. Per the New York Times, he could be eligible for release in 12 years.
Wall, 30, first went missing last August 10, shortly before she and her boyfriend planned to move to China. She was last seen boarding Madsen's homemade submarine, the UC3 Nautilus, for a story she was writing about him. Her boyfriend reported her missing when she didn't return home, and an investigation commenced.
Madsen initially claimed he dropped Wall back off at the Copenhagen harbor, before changing his story several times. He then told police she died in an accident involving a fallen hatch onboard and he dismembered her body and "buried her at sea," before saying she succumbed to exhaust gas poisoning. (This last claim was later swiftly shut down by an expert witness in court.) When Wall's body was recovered from the water, it was found with multiple stab wounds.
Madsen maintained that Wall's death was accidental during the trial — but the extensive collection of snuff films and videos of women being tortured found on his computer bolstered the prosecution's theory that he committed a premeditated murder to fulfill violent sexual fantasies. Adding to the evidence of premeditation were the women who took to the witness stand to say that Madsen had invited them onto his submarine in the weeks before Wall's death — as if he was actively seeking out a victim.
Psychiatrists who spoke to Madsen also testified that they believed he has psychopathic tendencies.
Per the Associated Press, Madsen's lawyer says she is planning to appeal his conviction.
Since her passing, Wall's family has started the Kim Wall Memorial Grant in her honor, which is meant to fund the work of young female journalists.