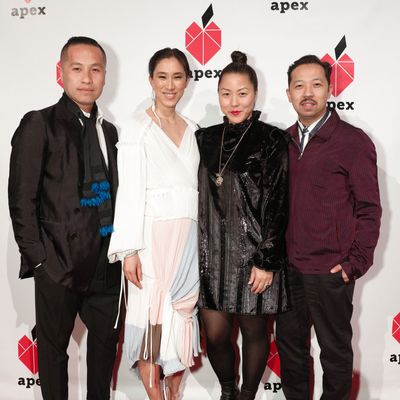 Philip Lim, Eva Chen, Carol Lim, and Humberto Leon.
Photo: Matteo Prandoni/BFA.com
Philip Lim, Eva Chen, and Olympic ice skaters Alex and Maia Shibutani were among 800 guests at the Apex for Youth Inspiration Awards Gala last night, celebrating the nonprofit's commitment to serving low-income Asian and immigrant kids in New York City. "This is the biggest private fundraising event we have for the Asian-American community," said Michael Lee, Apex for Youth's executive director. He stood under Cipriani Wall Street's massive violet-lit columns while Eddie Huang, Prabal Gurung, and Opening Ceremony designers Humberto Leon and Carol Lim gathered for cocktails.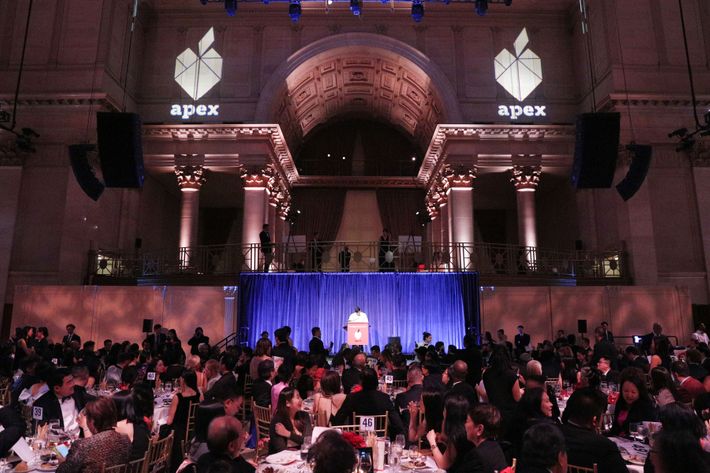 Most people wore elegant black suits and dresses, while Chen's pastel dress and John C. Jay's polka-dot suit were two standouts. The evening featured an auction that included Kenzo and Madewell bags and a Ling Skincare package. In a room full of fashion moguls and public figures, all eyes and ears focused on the youngest attendees: high-school students like Sean Park, who gave a speech detailing his years-long experience and success through Apex's mentorship program, and Kayla and Amira, two middle-school girls who had a private DJ booth at the event. Awards honoring trailblazing industry figures who resist stereotypes and challenge conventions were given to Lim and Leon, Jay, and singer-songwriter Jhene Aiko. Scroll to see looks from the event below.