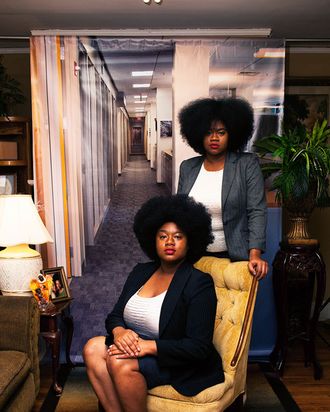 Sabrina and Katrina
, from "Am I What You're Looking For?" 2015.
Photo: Courtesy of Endia Beal, from "All Power: Visual Legacies of the Black Panther Party," PCNW 2018
Fifty years ago this month, the first Black Panther Party chapter outside of California was founded in Seattle. The city's chapter was officially introduced by the Black Power group known as "Black Student Union" in April, 1968. The group's frustration with broken promises for racial equality turned to activism in the year that followed political activist Stokely Carmichael's speeches delivered at the University of Washington and Garfield High School in the spring of 1967.
To celebrate the chapter's 50th anniversary, Seattle's Photographic Center Northwest will present "All Power: Visual Legacies of the Black Panther Party," a major exhibition of works from a book of the same name. The show features photographs from emerging and internationally acclaimed contemporary black artists influenced by the Black Panther Party for Self Defense. Striking images by LaToya Ruby Frazier, Ayana V. Jackson, and Sadie Barnette will appear alongside the works of 12 other artists ranging in age from 22 to 70.
To coincide with the exhibition, the Photographic Center Northwest organized a three-part discussion series in collaboration with the Frye Art Museum. The discussions, which will take place on April 22, May 19, and June 9 in the Frye Art Museum auditorium, will focus on the lasting impact of of the Panther's aesthetic. Seattle's King County Councilman Larry Gossett will speak on a panel alongside some of the artists featured in the show, including Endia Beal and Robert Wade.
"All Power: Visual Legacies of the Black Panther Party" will remain on view until June 10, 2018. Scroll through for a preview of the show.