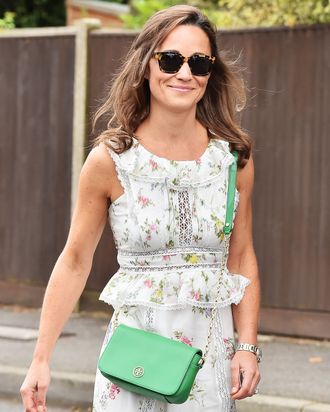 Pippa Middleton.
Photo: HGL/GC Images
According to all the British tabloids — the Sunday Express, The Sun, The Daily Mail, The Mirror, you name it — Pippa Middleton is reportedly expecting her first child with her financier husband, James Matthews.
One in-the-know source told the Sunday Express, "When Pippa found out she was pregnant, she was obviously thrilled and utterly overjoyed," and that the pregnancy news "provided some much-needed happiness." Per The Sun, Middleton has already had her 12-week, and her sister Kate Middleton, who's about to pop herself, "could not have been more delighted" to hear the news.
The 'bloids also couldn't resist bringing up the current scandal surrounding the mom-to-be's father-in-law, who was arrested in late March for sexually assaulting a minor. Oof.
Anyway, if the pregnancy rumors are true, Middleton will certainly have to end her war on kid-friendly breakfast foods.