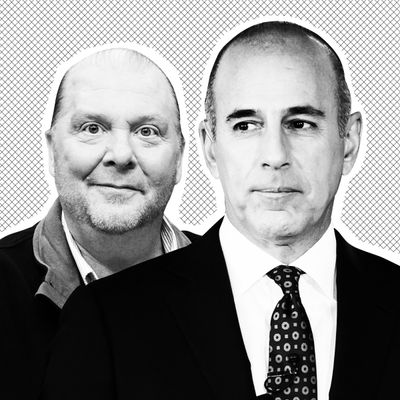 Matt Lauer and Mario Batali.
Photo: Getty Images
In February, shortly after White House aide Rob Porter's two ex-wives came forward with allegations of emotional and physical abuse against him, President Trump tweeted that "Peoples [sic] lives are being shattered and destroyed by a mere allegation." He added, "There is no recovery for someone falsely accused — life and career are gone." Not gone for very long though, it seems. Several men accused of misconduct during the #MeToo moment appear to be plotting their comebacks, and until then, as Laura McGann pointed out at Vox, their lives in "#MeToo jail" look pretty good.
Matt Lauer, who was fired from his longtime hosting job at the Today show for "inappropriate sexual behavior in the workplace," has been doing his "soul-searching" at his expansive Hamptons compound, which he bought from Richard Gere in 2016 for $33 million, and includes 12 bedrooms, a teahouse (?), and a 60-foot swimming pool. This is in addition to his house in Sag Harbor and a 40-acre horse farm in Water Mill. But he may not be trapped in the 14,000-square-foot hellhole for long.
According to a "Page Six" story earlier this week, he is "said to be testing the waters for a public comeback by coming out of hiding from his Hamptons home." Brave.
Mario Batali, the ginger-ponytailed celebrity chef accused of assaulting a woman in the Spotted Pig's "rape room," is contemplating a more international approach. As McGann points out, he may have returned to his waterfront home in Michigan (five bedrooms, a deck overlooking the water, an outside pizza oven) but, as the New York Times reported earlier this month, he is also considering a move to the Amalfi Coast. Also brave.
Charlie Rose, meanwhile, has been at his "sanctuary," in Bellport, Long Island. Per the Hollywood Reporter:
"A past Bellport inhabitant who has been a guest describes Rose's $4 million to $6 million property on Great South Bay as enjoying 'panoramic views of the water and Fire Island in the distance.' He describes Rose's 'Grady-White fishing boat … bobbing in the waves in the foreground.'"
There, he has been "focusing on trying to understand, [both] events and other people's perception of them," THR reports.
These men, McGann writes, call their luxurious situations "exile," and "banishment," and "[t]hey'll try to claim #MeToo jail is enough. It won't come close to real jail. And it won't solve the problem."
Read the full story here.