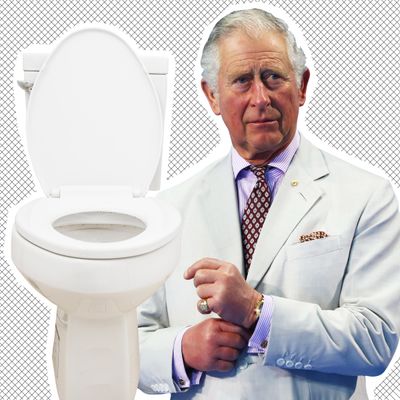 A toilet (left), Prince Charles (right).
Don't believe everything you hear. Especially if what you hear is that Prince Charles — first in line to the British throne and soon-to-be father-in-law to Suits star Meghan Markle — brings his own toilet seat around with him like some kind of fancy toilet snob. He doesn't, okay?
The prince addressed these baseless attacks during his recent tour of Australia. When a reporter from Brisbane's Hit 105 station asked if it was true that he takes his own toilet seat with him on trips abroad, the prince of Wales said, "My own what?! Oh, don't believe all that crap. The very idea!"
His wife, Camilla Parker-Bowles, added, "Don't you believe that."
The rumor seems to have come from Tom Bower's biography of Charles, titled Rebel Prince: The Power, Passion and Defiance of Prince Charles, in which he claims the prince takes luxury toilet paper, his own toilet seat, an orthopedic mattress, and two paintings of the Scottish Highlands with him when he goes on long trips.
But it's not true! Prince Charles is just a regular guy who puts his butt on the same toilet seats the rest of us plebes do.
He is truly the People's Prince.