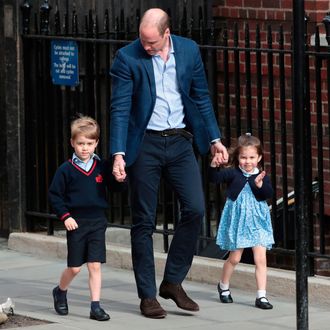 Prince George, Prince William, and Princess Charlotte.
Photo: Daniel Leal-Olivas/AFP/Getty Images
On Monday, Prince George, 4, and Princess Charlotte, 2, arrived at the Lindo Wing of St. Mary's Hospital in Paddington, London, with their father Prince William to meet their brand new (royal) baby brother and visit their mom, Kate Middleton. And to absolutely no one's surprise, the moment was incredibly cute.
It had been reported earlier in the day that, despite the fact that Kate Middleton went into labor early Monday morning, Prince George still went off to school per usual, so he wasn't expected to stop by until after class later in the day. And right on cue, a few hours later, we saw Prince William emerge from the hospital and hop in his car, before telling the press "Be back in a minute," which signified to us all that he would, in fact, be back soon — with the two young royals. Soon after, Prince William returned with his two oldest kids.
The crowd made an audible "awww" as Prince George and Princess Charlotte walked the short walk from their dad's car to the hospital's entrance. Ever the diplomat, Princess Charlotte waved at the crowd nearly throughout the entire walk to the door. And once the trio started walking up the steps, she even pivoted back around and gave us all another cute wave.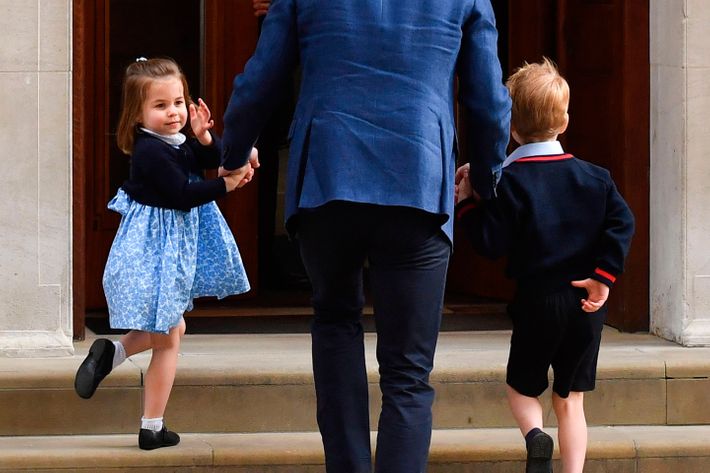 The entire moment was incredibly short, but still extremely sweet. We can't wait to see more pictures of the young royals and their parents — but hopefully also with their brand new (as yet unnamed) little brother.