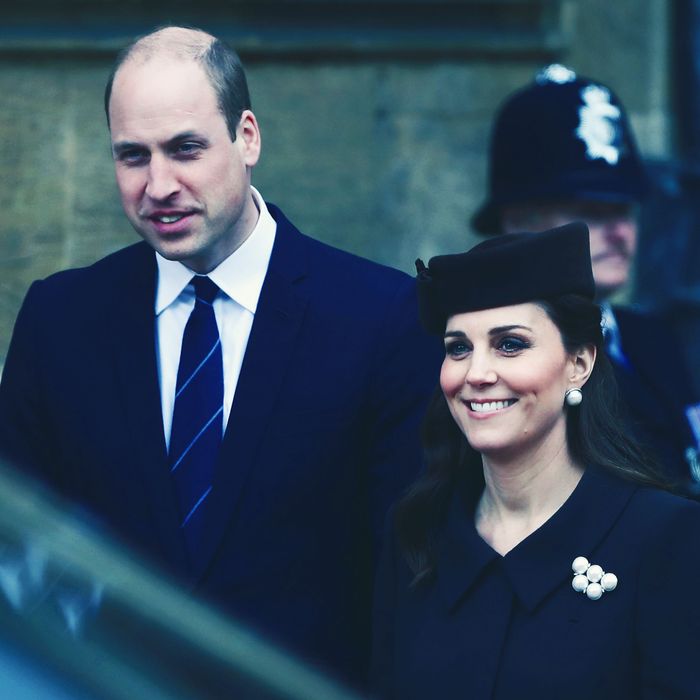 Prince William and Kate Middleton.
Photo: Simon Dawson/WPA Pool/Getty Images
In case you've been too distracted by the upcoming wedding between Meghan Markle and Prince Harry to notice, there will actually be another addition to the British royal family soon. Kate Middleton and Prince William are expecting their third child — any day now — and oops, the current-and-future-dad may have accidentally revealed the baby's sex at a sporting event in England.
On Tuesday, per Just Jared, Prince William attended a soccer game (how British!), and afterwards while celebrating the team Aston Villa's win, he said something rather suspicious (baby-wise). Speaking about player Jack Grealish, who scored the game-winning goal, the prince was heard saying, "I'm going to insist the baby is called Jack." WHAT! But then he paused and added, "… or Jackie."
So, is the baby going to be a boy named Jack after a soccer player? Or was Prince William merely joking around out of sports joy and made a passing comment that had absolutely no relevance, and then added "… or Jackie" when he remembered that everyone (including me) would be freaking out and assume he's having a boy? But if he was revealing that he and Kate are having a baby boy, what about those old British boy names they're expected to pick — Arthur and Albert? Is Jack even allowed? What is happening???
Sigh, this is a yet another royal mystery. Until we find out for sure (as in, when the baby's born), I'm going to text my friends and family (by that I mean, Prince George and Princess Charlotte) to let them know the maybe news.