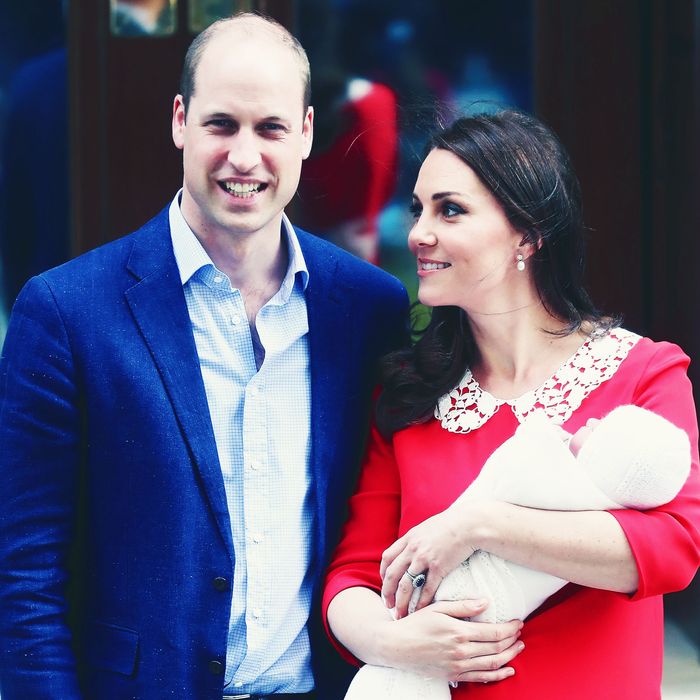 Prince William, Kate Middleton, and the new baby.
Photo: Chris Jackson/Getty Images
As we patiently/impatiently wait for the name of Kate Middleton and Prince William's recently arrived third child, the baby boy's dad has graciously given us all some extremely small but still cute details about the youngest British royal.
During a Wednesday memorial service at Westminster Abbey (that was also attended by soon-to-be-married couple Meghan Markle and Prince Harry), Prince William was asked about his son, who had just been born two days prior. The new dad of three happily joked around and spoke proudly of the little boy's ability to sleep through the night.
"Sleeping's going reasonably well so far, so he's behaving himself which is good," Prince William told an attendee of the Anzac Day memorial service. He also reportedly said that the family was in "good form, luckily" after welcoming its newest member.
But knowing that all anyone really wants to know is the kid's name, Prince William also joked around about possible name contenders, including Jerry (when talking to New Zealand high commissioner to the U.K., Sir Jerry Mateparae). According to Metro, Prince William said, "Jerry's a strong name." The prince similarly joked around about the name Jack not too long ago after a soccer player named Jack did a great job during — as the say in Britain — a football match.
So what's this kid's actual name? Who knows! Thankfully, Prince William and Kate Middleton revealed Prince George's and Princess Charlotte's respective names two days after their births, so we're hoping to hear soon.