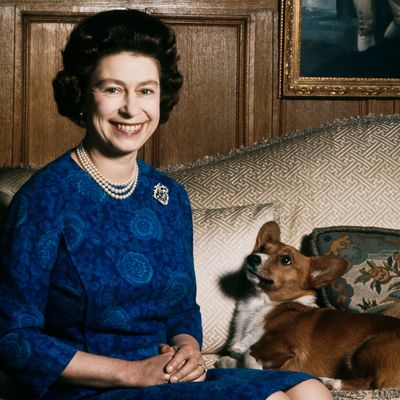 Queen Elizabeth II and a corgi.
Photo: Matt Green/Getty Images
The Queen has no more corgis. The 92-year-old monarch had her 14-year-old corgi, Willow, put to sleep on Sunday. This means Queen Elizabeth II is corgi-less for the first time since 1936, when she had her first.
The last corgi, Willow, apparently was put to sleep at Windsor Castle due to cancer-related issues. She was the 14th generation of corgis bred by Queen Elizabeth II. The Queen started breeding the dogs when she received one named Susan as an 18th birthday present. However, it was announced in 2009 that she would stop breeding corgis. It was later revealed that it was because she didn't "want to leave any behind." At the time, she had seven corgis left.
Willow's death marks the end of an era for the Queen. However, she's not alone — she has two corgi-dachshund mixes, named Vulcan and Candy, left to remind her of happier times. Good thing she'll be distracted this month.