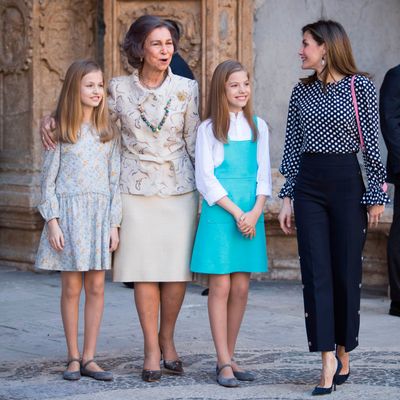 Princess Sofía, Queen Sofía, Princess Leonor, and Queen Letizia on Easter Sunday.
Photo: Jaime Reina/AFP/Getty Images
While some royals appeared to have a nice and calm Easter, the same apparently can't be said for the royal family of Spain, as video of what looks like a familial spat between Queen Sofía and her daughter-in-law Queen Letizia at a church on Easter Sunday has gone viral. And I am truly, wholly obsessed with this drama.
First, I know what you're wondering: why are there two queens of Spain? Let me explain. Queen Sofía, 79, is the first child of King Paul of Greece and Frederica of Hanover. She also served as the Queen of Spain during the reign of her husband, King Juan Carlos I, who abdicated the throne in 2014. So, she's still a queen. But at the moment, Queen Letizia is the actual queen of Spain — as she's married to Queen Sofía's son King Felipe. Got it? Good.
Anyway, like many other families, the Spanish royals spent Easter together. They attended what should have been a simple church service at the Palma Cathedral in Mallorca on Sunday — but instead turned into the scene of some drama:
In video that I have watched and will continue to watch repeatedly, Queen Sofía is seen putting her arms around granddaughters Princess Leonor, 12, and Princess Sofía, 10, as they smile for photographers. Queen Letizia then walks in front of the group, seemingly to block the photographers. Princess Leonor tries to shrug off her grandmother's hand, but Queen Sofía puts her hand back.
Then, the two queens seem to have a heated exchange — right in front of the photographers. King Felipe steps in to try to calm the situation down, and the two queens happily posed together for pictures. But in a second video, Queen Sofía is seen kissing Princess Leonor's forehead, and Queen Letizia wipes the kiss off.
Apparently, Queen Letizia has been quite "hurt" by the whole situation, as one of her friends, Imma Aguilar, told El círculo: "I talked to Queen Letizia a while ago, and she is worried and quite desolated by this situation; she is very committed to the care of her daughters, with the protection of their image, she worries who takes photos of them. She worries where they come from, who approaches them. It's a very motherly reaction."
Nevertheless, I cannot stop watching and analyzing video of this feud.