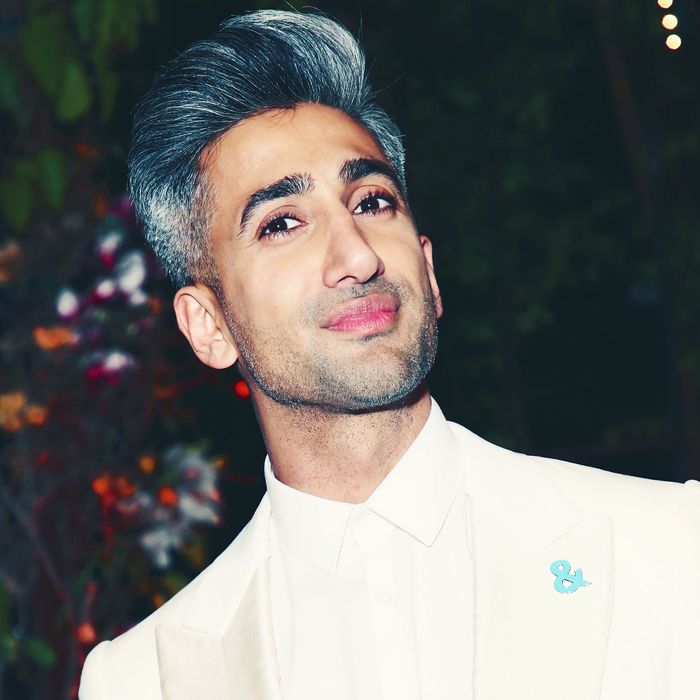 Tan France.
Photo: Chelsea Lauren/Variety/REX/Shutterstock
When Nordstrom celebrated the opening of its first Manhattan store last night, the most stylish men from New York City's five boroughs flooded in wearing head-to-toe Raf Simons ensembles and ugly shoes. And then, there was a breath of fresh, classic air — Tan France, the fashion guru from the Netflix revival of Queer Eye, had arrived. He was the most popular guest in the room.
Dressed in a navy suit and bright white sneakers (from the trendy-but-not-too-trendy label Common Projects), France enthusiastically took photos with each fan who approached him and listened to their favorite Queer Eye moments. The Cut managed to get a few minutes with France in the middle of all the selfies. He gave us tips on how to take the perfect photo and what every man should have in his closet.
What's the one basic that every man should have in his closet, aside from a patterned, short-sleeve shirt?
[Laughs] Cheeky. I have to give you three or four because you can't have one without the other. It's a capsule collection. First, a great dark suit. It doesn't have to be black. I prefer navy. Second, a good pair of jeans — if they're not skinny, I don't mind if they fit your body well and they're not bootcut. Third, a buttoned shirt that fits your body beautifully and is tailored to perfection. It doesn't have to cost a lot. And finally, a great tee that goes with your suit. Any color you want that works with your suit. Go with something that you can use to break up your suit for a lot of different outfits.
What about statement pieces?
My statement pieces change regularly. You know I love a printed shirt, however, I will say anything with animal print. We're coming up to spring and summer and I think that an animal print is perfect for men and women.
I love a leopard print.
But it's not just leopard. I love a zeh-bra print (I know you pronounce it zee-bra over here). And Dolce did an elephant print that was gorgeous.
What was your favorite style transformation on Queer Eye?Oh easy, easy, easy: Bobby Camp. He went from looking like a hobo — I'm saying that in a very polite way; that's just the way it is — to looking like he could be the CEO of a company. It helps that he was handsome anyway, but I'm really happy with the outfits we put him in and I think he looked like a very attractive 50-year-old.
Last question: I've seen you take all these selfies tonight, would you mind taking one with me?
No! Not at all. But can I take it? Do you take a good selfie?
Of course! And no, I don't.
So here are my tips: we find the light, we make our face, and then we move our chin slightly for each shot to give us some options. [Note: the selfies turned out great.]
This interview has been edited and condensed.