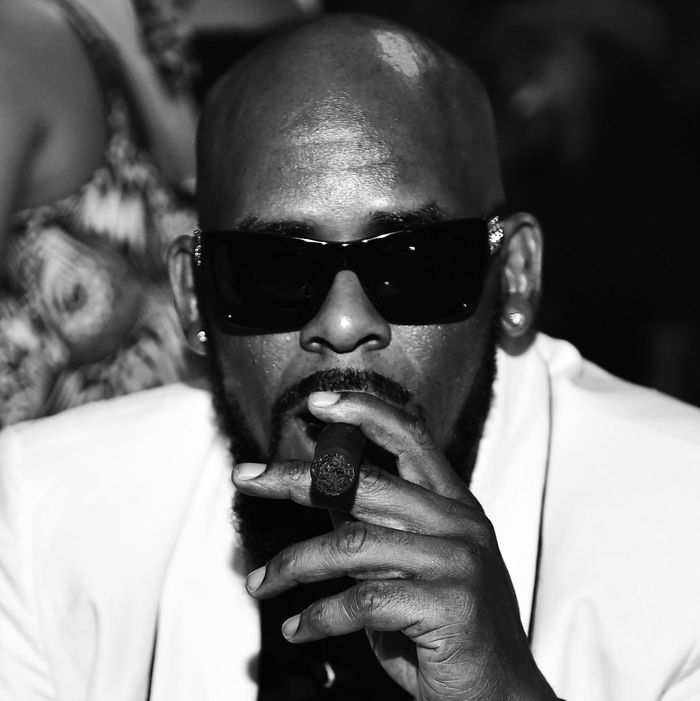 R. Kelly.
Photo: Picasa/WireImage
On April 30, Time's Up asked the public to join its #MuteRKelly campaign via an open letter on the Root. The movement, founded by Hollywood figures and aimed at combatting sexual harassment, requested that specific corporations and venues to cut ties with accused R&B singer R. Kelly.
"The scars of history make certain that we are not interested in persecuting anyone without just cause," wrote the Women of Color of Time's Up, the group within the movement that authored the letter. "With that said, we demand appropriate investigations and inquiries into the allegations of R. Kelly's abuse made by women of color and their families for over two decades now."
While a handful of powerful men accused of sexual misconduct have fallen in the era of #MeToo (though only temporarily, it appears), Kelly has not yet been one of them, despite having been accused of everything from child pornography to running a sex cult over the past 25 years. Below, a running list of the allegations against the R&B singer.
August 31, 1994: 27-year-old Kelly marries 15-year-old Aaliyah
While Aaliyah's age is listed as 18 on the falsified marriage certificate, she is underage when she secretly marries the R&B singer at a Sheraton Gateway Suites in Chicago. Neither person ever admits to being married, and just months after the ceremony, the marriage is annulled.
December 2000: The Chicago Sun-Times publishes first major investigation into Kelly's alleged sex crimes
In December 1996, Kelly is sued by an aspiring singer named Tiffany Hawkins, who alleges that he "engaged in inappropriate sexual conduct" with her when she was 15 and he was 24. The R&B singer claims that Hawkins was spreading "false allegations," after which he countersues her, but he later settles the initial lawsuit for an undisclosed amount of money. This investigation is first reported by Jim DeRogatis, who has doggedly investigated Kelly's alleged behavior for decades.
January 2001: DeRogatis receives first Kelly sex tape from an anonymous source
Because editors at the Sun-Times worry that the woman in the video could be underage, they turn the tape over to Chicago police. DeRogatis later receives another sex tape of the singer having sex with a girl who is alleged to be 14, after which Kelly is indicted on multiple child-pornography charges. In 2008, Kelly is found not guilty on all counts.
August 2001: Tracy Sampson sues Kelly for allegedly having sex with her when she was 17
In the lawsuit, obtained by Chicago public radio station WBEZ, the woman claims, "I was coerced into receiving oral sex from a girl I did not want to have sex with. I was often treated as his personal sex object and cast aside. He would tell me to come to his studio and have sex with him, then tell me to go. He often tried to control every aspect of my life including who I would see and where I would go." Kelly reached an undisclosed deal with Sampson in March 2002.
April 29, 2002: Patrice Jones sues Kelly
Jones, who says she first had sex with Kelly when she was 16, claims he also coerced her into having an abortion. While MTV reports that Kelly's lawyers planned to fight this case in court, the singer later settles out of court.
May 24, 2002: Montina Woods Sues Kelly
The third lawsuit comes from Woods, an adult dancer who claims that Kelly taped her during sex without her consent. Kelly again settles for an undisclosed amount, and Woods signs a nondisclosure agreement.
July 17, 2017: BuzzFeed publishes explosive investigation about Kelly's alleged sex cult
In a horrifying BuzzFeed report from DeRogatis, the reporter who broke the story on R. Kelly's alleged sexual abuse of underage women nearly 20 years earlier, the singer is accused of running a sex cult that preys on young black women. The investigation focuses on two women who are allegedly being held at Kelly's rental properties — a 19-year-old from Georgia and an 18-year-old from Florida who was 17 when she met Kelly — whom he allegedly submits to emotional abuse. According to the report, this includes "dictating what they eat, how they dress, when they bathe, when they sleep, and how they engage in sexual encounters that he records."
In a later report on Jezebel from reporter Anna Merlan, a woman who was once in Kelly's inner circle describes seeing the sex cult as "witnessing Stockholm syndrome." Another woman, Jerhonda Pace, breaks her NDA to speak about having sex with Kelly while she was underage, following DeRogatis's reports.
October 23, 2017: Kitti Jones speaks out about alleged abuse
In a report for Rolling Stone, Kitti Jones details the alleged physical and emotional abuse she suffered while they were in a relationship together. According to the report, Kelly starved her, coerced her into sexual encounters with women, physically abused her, and constantly monitored her.
April 16, 2018: Woman accuses Kelly of intentionally giving her an STD
In a criminal complaint filed April 9, an anonymous woman and her lawyer told Dallas police that the accuser was "victim of several forms of criminal misconduct by Kelly, including, but not limited to, unlawful restraint, furnishing alcohol and illegal drugs to a minor, and aggravated assault." The woman reportedly had a relationship with Kelly when she was 19, when she was allegedly being trained to be in his cult.
May 4, 2018: Two more women speak out in BuzzFeed News report
Two new women speak of alleged brainwashing and underage sexual abuse at the hands of R. Kelly to DeRogatis and reporter Melissa Carroll.