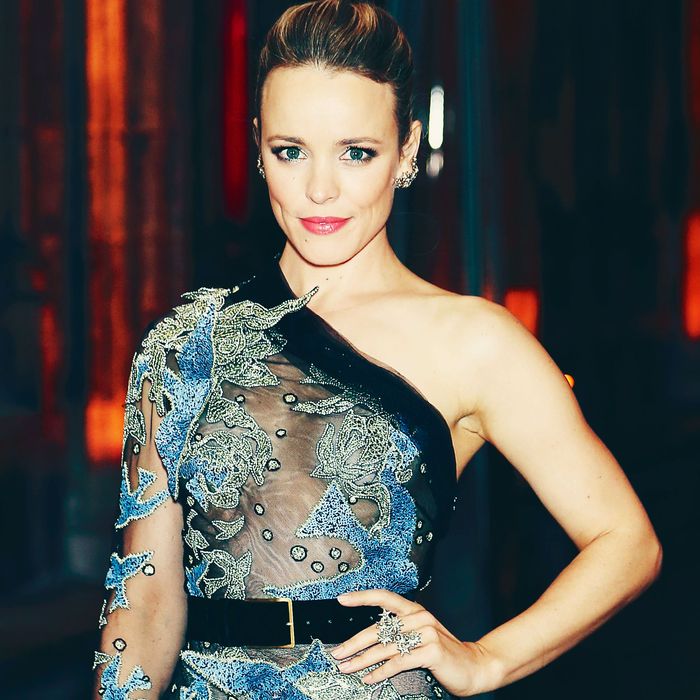 Rachel McAdams.
Photo: Dave J Hogan/Dave J Hogan/Getty Images
Rachel McAdams has reportedly given birth to her first baby, a boy.
The 39-year-old Mean Girls actress is notoriously tight-lipped about her personal life, so there's no official confirmation yet from her representatives. However, she and boyfriend Jamie Linden were recently photographed out and about with an infant boy. According to Hollywood Pipeline, McAdams and Linden were overheard during the outing talking about what a "good sleeper he is" and saying that "he's a good boy."
McAdams largely kept her pregnancy under wraps, until Lainey Lui of LaineyGossip speculated that McAdams might be expecting back in February after she didn't appear at the premiere of her latest film, Game Night. A reader of the gossip site had also tweeted a picture of McAdams seemingly covering up her baby bump in an oversize coat, so it all seemed to add up. Soon after, multiple sources confirmed to E! that McAdams was, in fact, pregnant.
Not much is known about the Canadian actress's relationship with Linden, a 37-year-old screenwriter (who wrote Dear John). But they've been romantically linked since at least April 2016, and shortly after that, they were spotted out holding hands, which we can all agree is very couple-y. Since then, they've rarely appeared in public together and have yet to make their red-carpet debut, People notes.
Many congrats to the (reportedly) happy new parents. We can only hope that her birth story isn't as stressful as that of Seth Meyer's wife, Alexi Ashe, (who recently gave birth in their building's lobby, aah).